Threatening weather forecasts cast doubt on whether faithful members from Beautiful Savior Lutheran Church were going to be able to plant gospel seeds on Saturday. We prayed for a window of opportunity and the Lord granted our request.
Praise and Proclaim had the privilege to travel to La Porte, IN on October 25-26 to launch an outreach initiative. This was our fifty-fourth initiative in twenty-one states since the gospel ministry began in 2016. It was a blessing to come to provide evangelism training that included opportunities for members to put their training into practice through the practical experience of witnessing to strangers and friends of the congregation.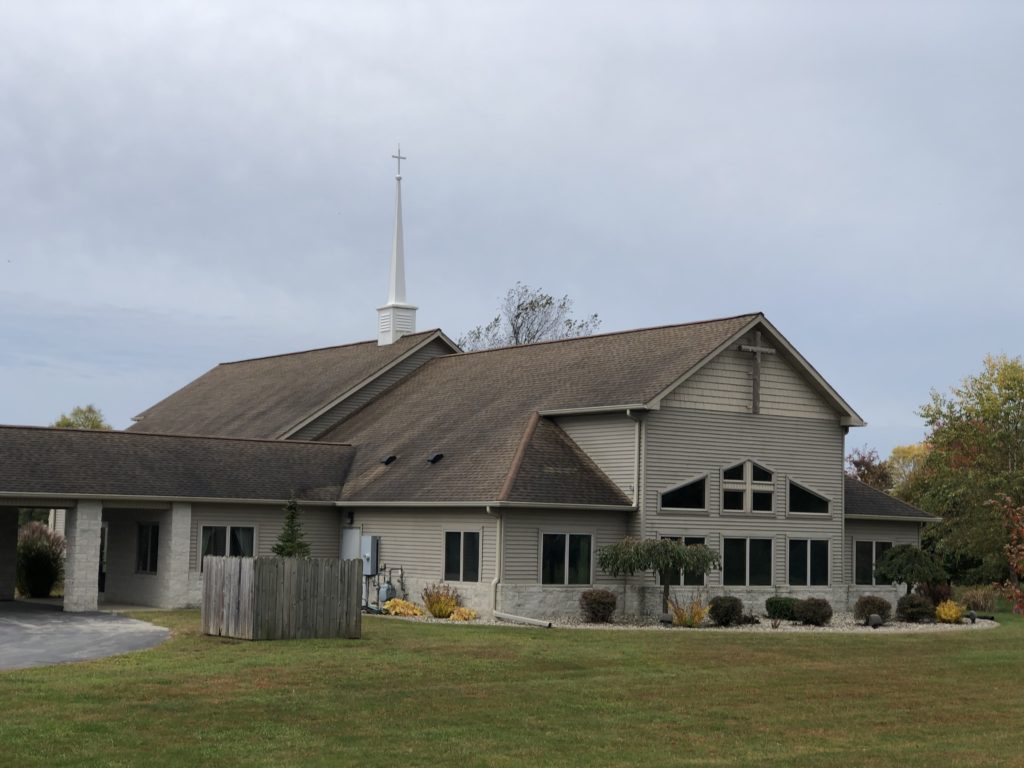 Beautiful Savior is a young congregation that started forming in the mid-1990's. A group starting meeting regularly in Michigan City. In 1999, the WELS Board of Home Missions granted funds to have a full-time minister. Since most of the new members of the group were coming from La Porte, the congregation decided to rent a meeting place in the city to hold worship services. They eventually purchased seven acres of land on the east side of La Porte and a beautiful worship facility was built in 2006.
The city of La Porte is named after the French word for "the door" and has an estimated population of 21,000 people. Our prayer and hope for this outreach initiative is that it could enhance the ongoing work of its gospel ministry and open the doors to proclaim the Good News of what Jesus Christ has already done.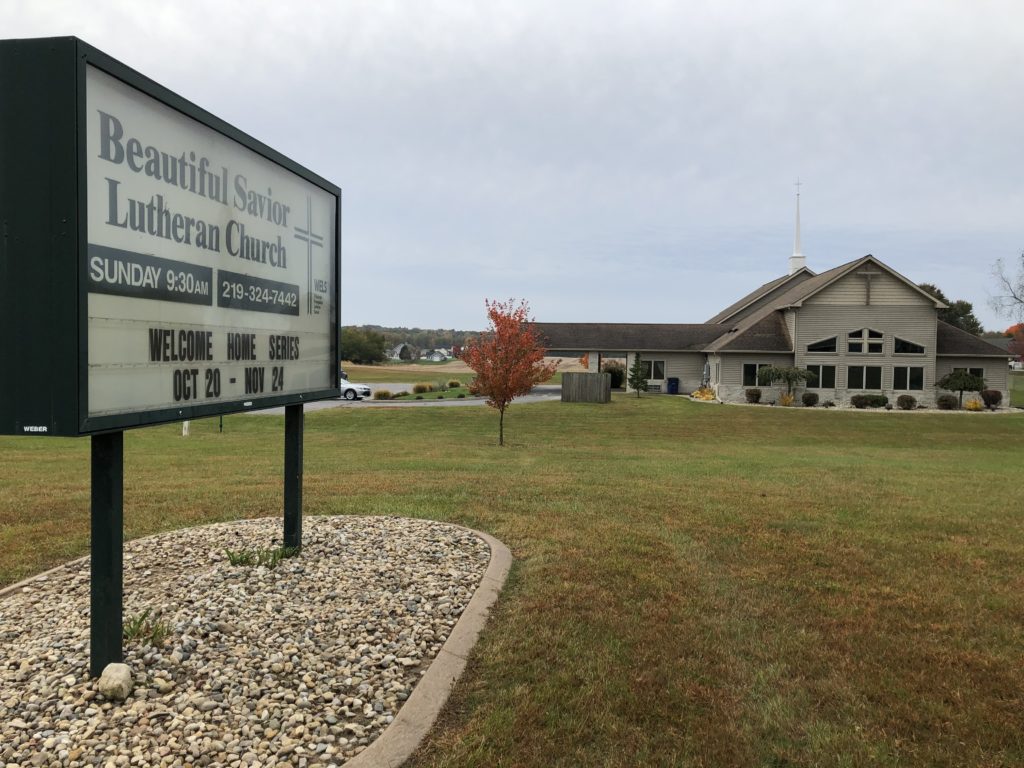 On Friday evening, a dozen guests from several congregations in the Benton Harbor (MI) area drove forty-five minutes to attend the two-and-a-half-hour training session. The weather forecast for the following day called for a 100% chance of heavy rain and high winds. My prayer was that the Lord would provide a window of opportunity on Saturday morning for each two-person team to knock on at least a dozen doors and/or talk to two strangers.
The Lord answered my prayer.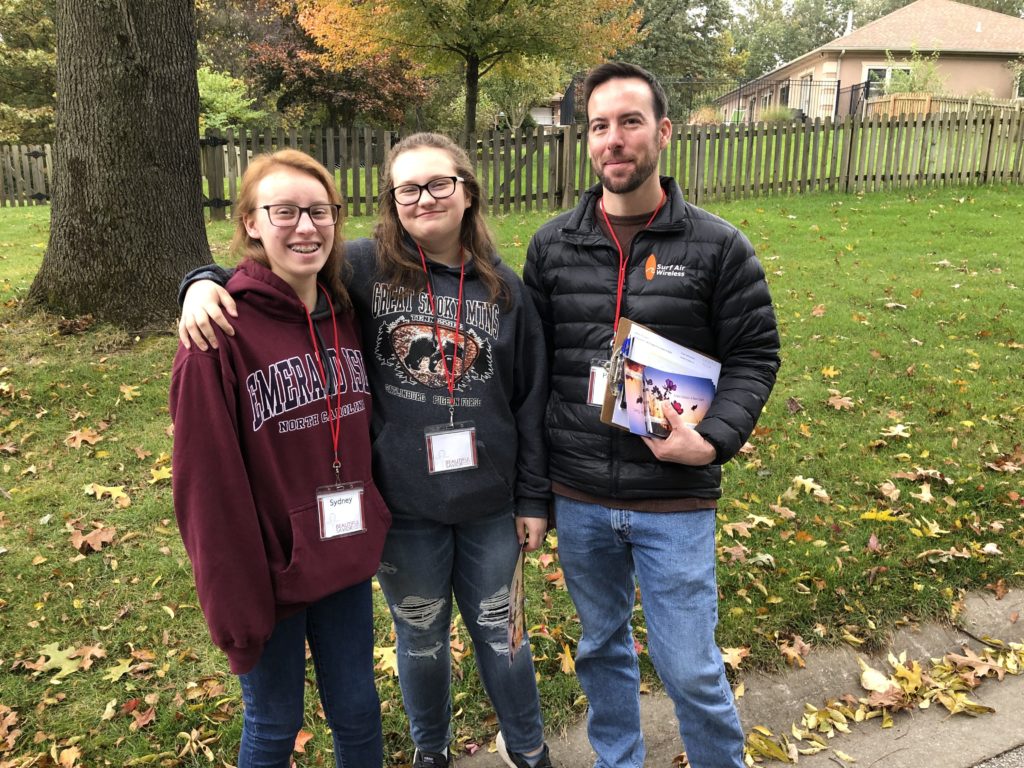 Several faithful members from Beautiful Savior arrived early on Saturday morning and were ready to go. They were not only stepping out in faith to go out and knock on people's doors, they were stepping out in hope. For a good hour, five teams went out to a nearby neighborhood. Together, we knocked on a hundred doors and talked to twenty-five people. Many people expressed interest in the Neighborhood Safety Night the congregation was hosting. Some families had children who attended the successful soccer camp held at church each summer. Most importantly, we received opportunities to provide a short message about what Christ has already done for us.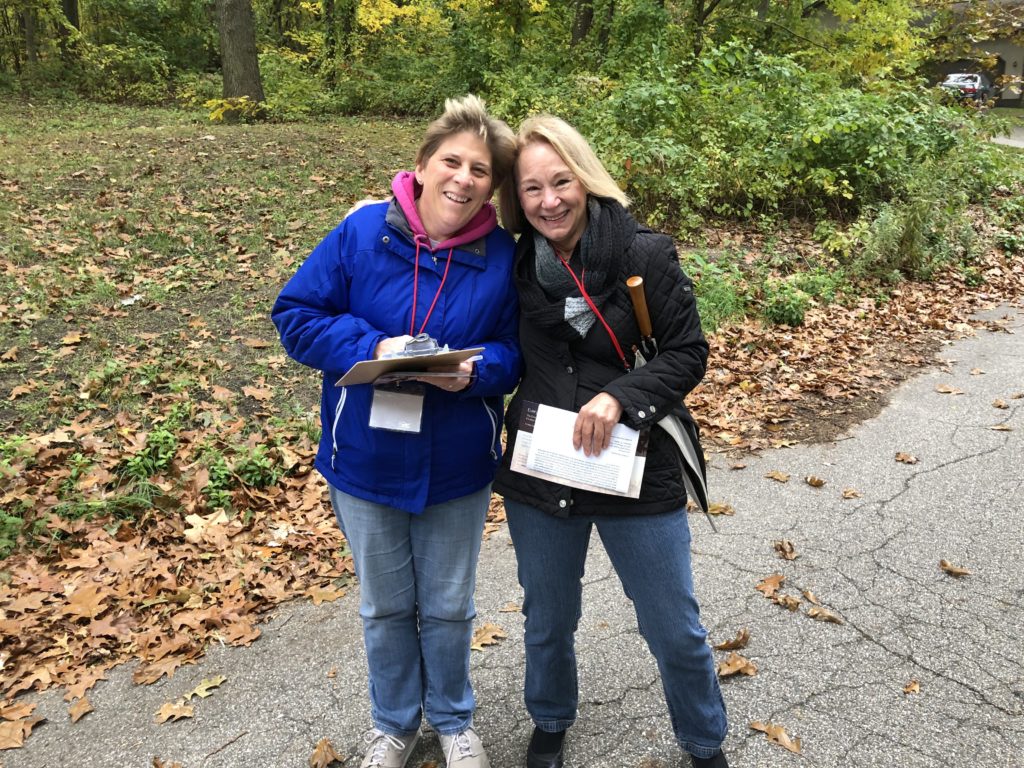 Shortly after 11:00 a.m., the wind and the rain started to arrive into the area. The afternoon plan to make personal follow-up visits with friends of the congregation had to be postponed until the following weekend. The wind and rain lasted throughout the night causing minor flooding and a brief power outage for most of the city.
Even though the weather postponed the activities of proclaiming the gospel on Saturday, it was just the beginning to have more members actively participate with the pastor to get the Word out in the surrounding neighborhoods.
TOUCHDOWN JESUS!
The University of Notre Dame in South Bend, IN is about a forty-five-minute drive from La Porte. Being a college football fan, it made sense to make a quick visit on Thursday afternoon to the historic grounds of the Notre Dame football stadium and take pictures.
A beautiful atrium on campus connects the football stadium to the campus. Overlooking the football stadium, a huge mural on the side of the library includes a picture of Jesus holding up both hands as if blessing the world. Since Jesus is facing the football stadium, the mural has been famously dubbed as "Touchdown Jesus".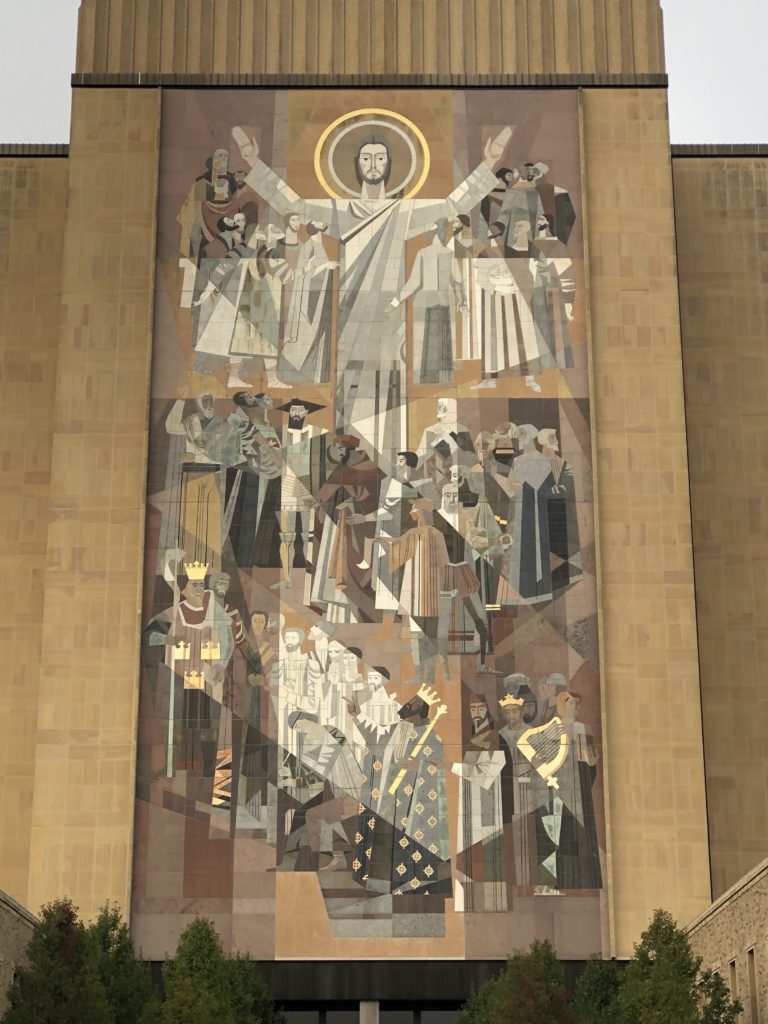 I believe the mural also provides an adequate picture for evangelism activity.
Scripture tells us that there is more rejoicing in heaven over one sinner who repents than over ninety-nine righteous people who do not need to repent. Faith and receiving baptism is a "Touchdown Jesus" moment.
Jesus commissions all believers to go out into the world and proclaim the Good News to all nations. Whenever there is activity of delivering the message of the gospel, we trust that the Holy Spirit is at work in the hearts and minds of those who receive it. Opportunities for believers to verbally proclaim the gospel are "Touchdown Jesus" moments.
During the Sunday morning worship, a four-month old boy named Stetson was baptized at Beautiful Savior Lutheran Church. Over a dozen family members – many who were unchurched and probably didn't know Jesus yet – observed a child receive the waters of baptism and heard a wonderful gospel message. It was a "Touchdown Jesus" moment at Beautiful Savior.
May the Lord use the outreach initiative to enhance the gospel ministry at Beautiful Savior Lutheran Church led by Rev. Kevin Boushek. It was a privilege for us to partner with them.
Scripture tells us that there is more rejoicing in heaven over one sinner who repents than over ninety-nine righteous people who do not need to repent. Faith and receiving baptism is a "Touchdown Jesus" moment.
Praise and Proclaim partners with congregations to help train members and leaders how to comfortably and confidently proclaim the gospel.
Enter your email address below to receive notifications of new posts by email.
Conquer Evangelism Fears, Build Outreach Momentum
Christians who have trained with Praise and Proclaim conquer their fears and apply a simple, memorable method for witnessing to friends, family and their communities. To learn more about how Praise and Proclaim can partner with your gospel ministry, contact us today.