The dual congregations at Trinity Lutheran in Lime Ridge, WI and St. John Lutheran in Hillpoint have shared a pastor. With an aging membership, they were aware that it was going to be challenging to continue their gospel ministry. With less young families living in the area and the future job prospects slim, both congregations were winding down a path towards closure. Instead of accepting this trend as inevitable, the congregations prayerfully considered their options.
They directed their attention to launch a new gospel ministry in Richland Center, WI. This city served as a hub for the area and did not have a WELS presence.
After their pastor retired, the congregations decided to extend a call to a pastor with the intent of having him lead their congregations to plant a new church in Richland Center. By God's grace, Rev. Dan Lewig accepted the call in Christmas of 2015. With his leadership and the faithfulness from the members who attend Trinity and St. John, the Lord is blessing their efforts.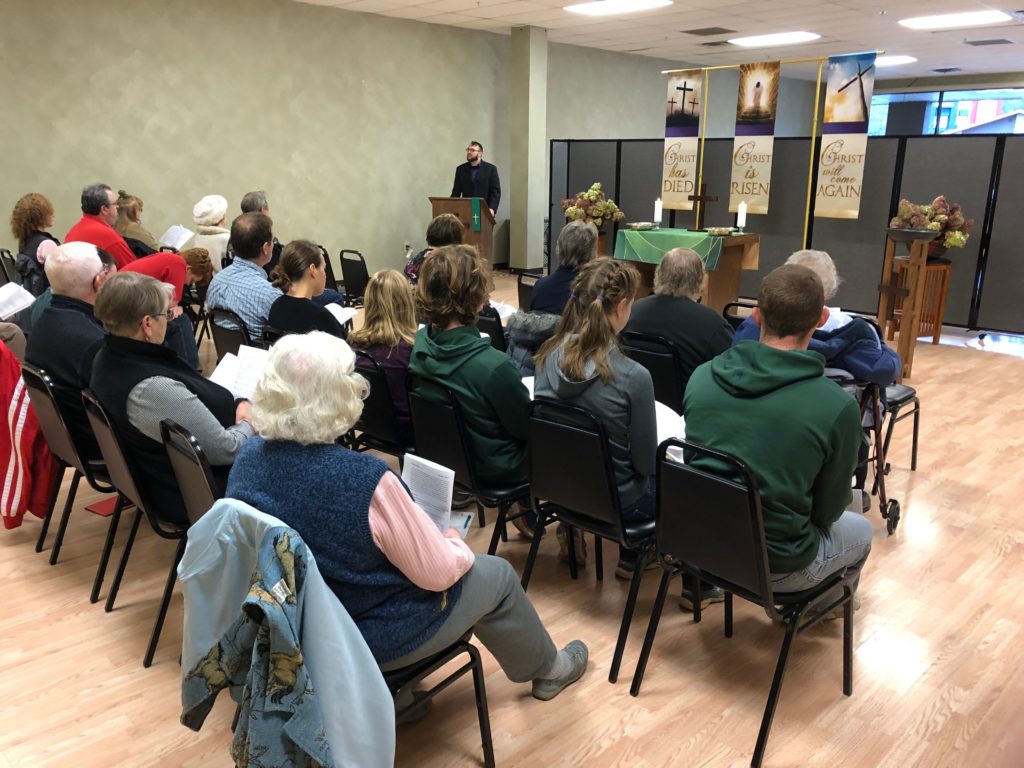 The initial efforts included leading a Bible study at the Center Café in Richland Center and organizing an Easter for Kids program. Other outreach efforts and planning continued until one member suggested having a Living Nativity during the Christmas season. It was decided to host the event at the large gymnasium inside the community center in the city. Both congregations took ownership of the idea and invested themselves to creating an excellent event. Booths were built, decorations were made, treats were baked, roles were assigned, and the word got out. They called the program "Return to Bethlehem" and prayerfully hoped that 100 members of the community would come and attend. A hundred and fifty people would be fantastic.
But the Lord had other ideas.
Over 400 people from the community flooded the gym – much to the shock and delight of the pastor and his members!
This event proved to be a turning point for the congregation. Due to the astounding success of the Living Nativity, it was only natural that the new church ought to be called Bethlehem Lutheran Church.
After already receiving un-subsidized mission status from the WELS Board of Home Missions, the board approved a request to receive funds to support a part-time pastor to assist in the congregation moving forward. Rev. James Korthals accepted the call to be a part-time retired pastor in early 2019 and has been a huge blessing for the congregations. His presence has freed up Pastor Lewig to concentrate his efforts on starting the third church.
It was decided that instead of having a multi-church congregation that shared the same name, they would call their collaboration Christ Countryside WELS (christcountrysidewels.org). Members from Trinity and St. John continue to take great ownership in launching the third church by actively supporting the work with their time and talents.
This past summer they signed a lease to start worship at a storefront location in Richland Center. It is the Center Café's banquet hall – a popular and well-known place for members of the community to hold classes, receptions, and parties. Bethlehem would utilize this place for Sunday morning worship and each Wednesday of the week.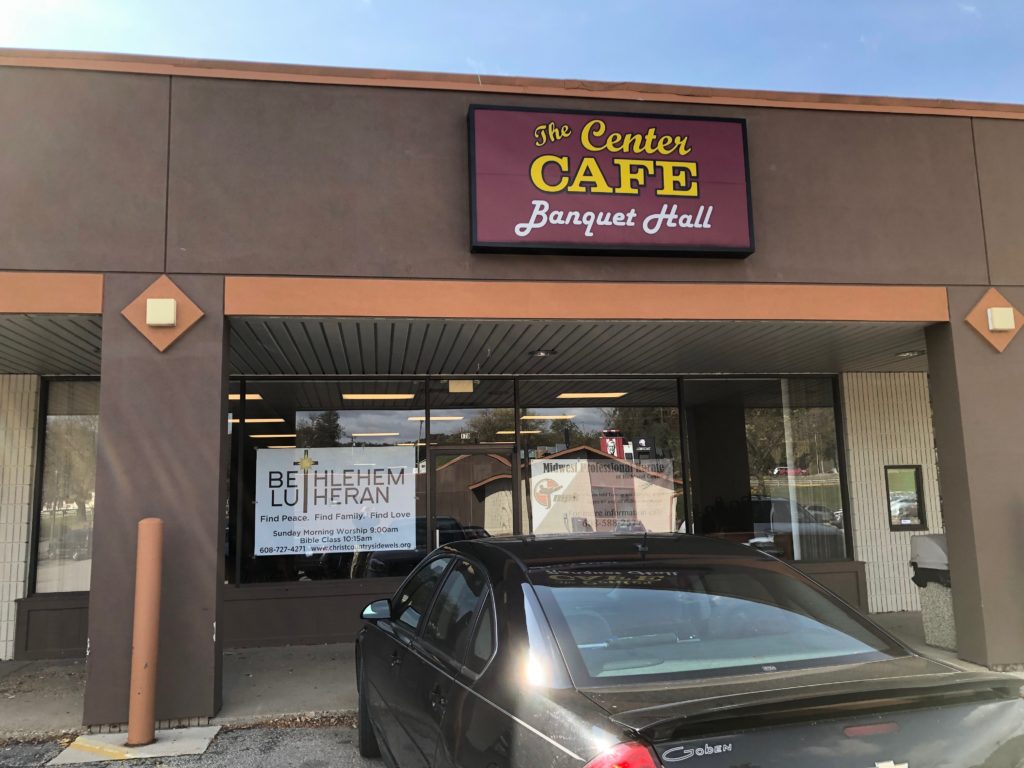 The next step was to fill the church with the necessary items to start conducting worship services. Pastor Lewig has built a relationship with the Amish community that lives by Iron Ridge. Their wood craftsmanship is well-known in the area. They agreed to make a pulpit, altar, and a baptismal font. Since this project was out of the ordinary, the Amish craftsman tackled the project with gusto and care. The final product turned out beautiful, affordable, and attached a local flair to the congregation.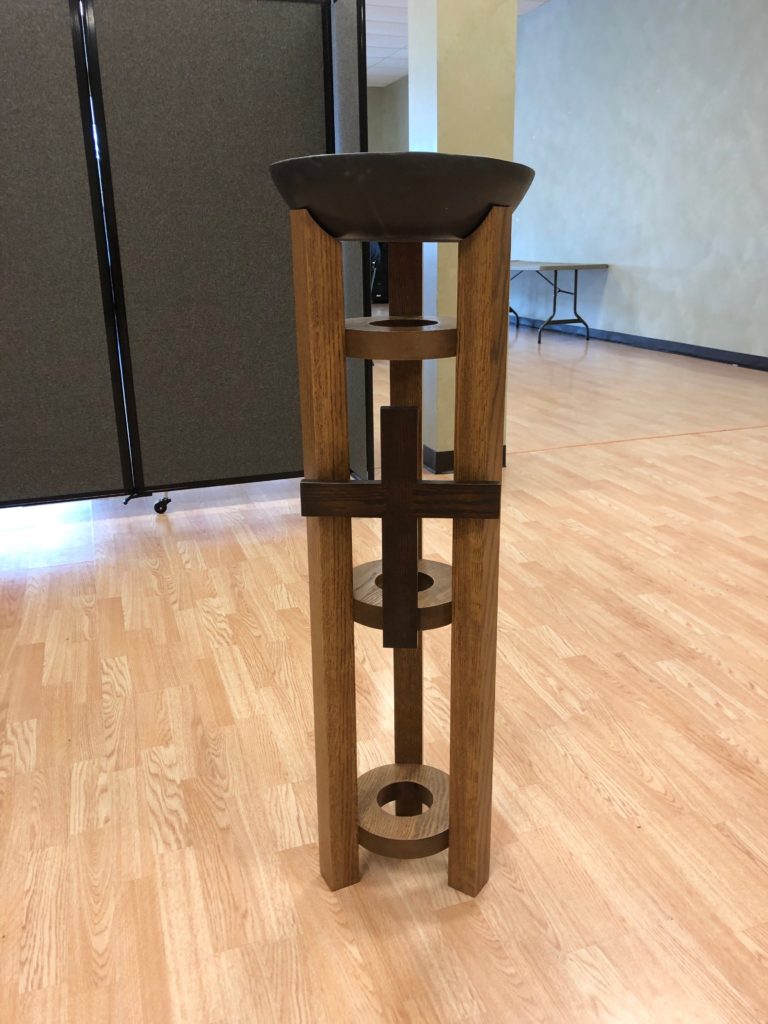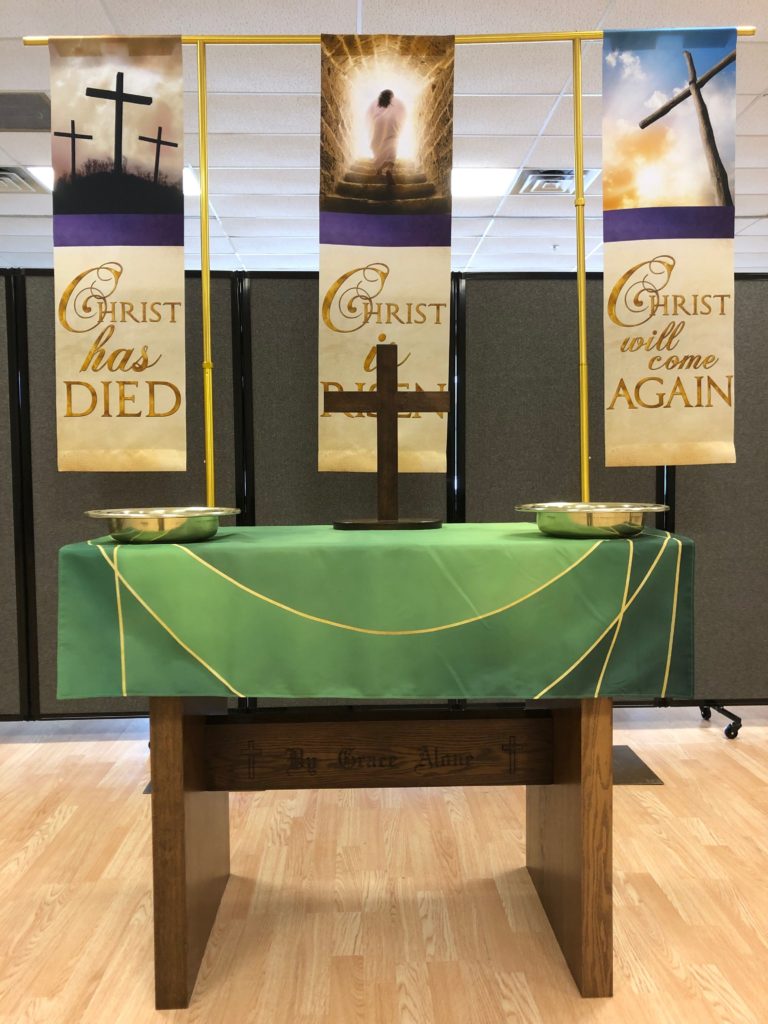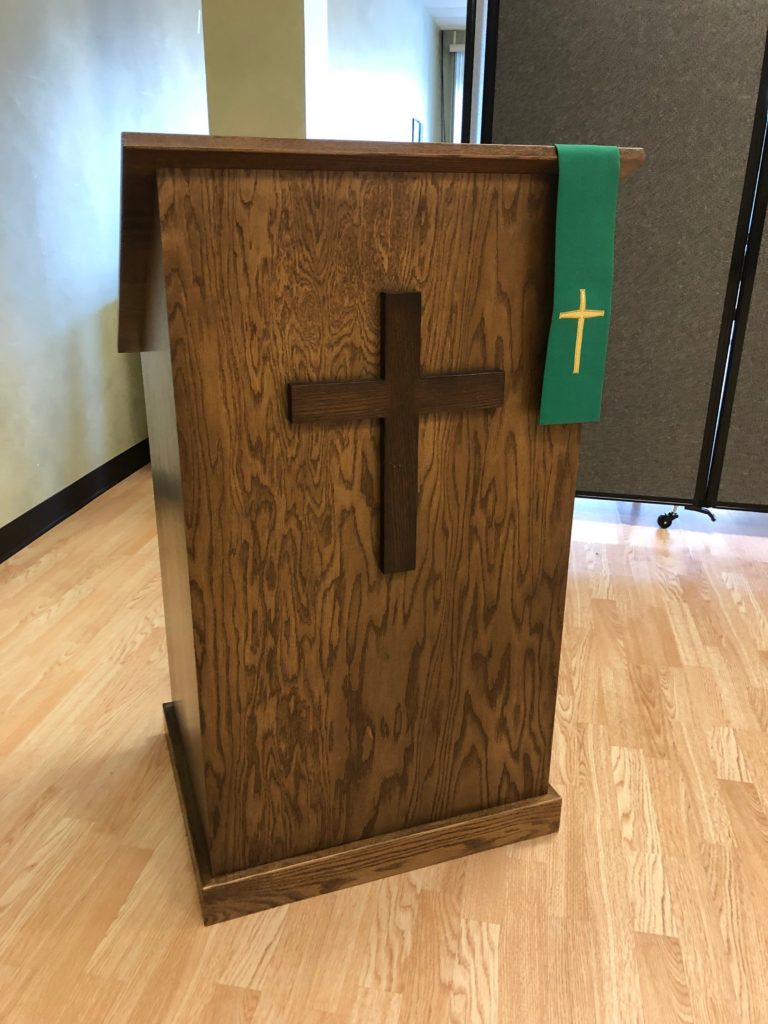 Everything fell into place for a Grand Opening worship service on Sunday morning, September 29th. The worship space was filled with 74 people and the service was even more special with a baptism.
Praise and Proclaim Ministries arrived two weeks later on October 11-12 to launch an outreach initiative to help sustain the outreach and evangelism efforts.
The intent of the initiative in Richland Center was to provide evangelism training for members so that they can feel comfortable and confident to give reasons for the hope they have in Christ. Over twenty people filled the room on Friday evening including faithful members from Trinity and St. Johns Lutheran Church. The plan was to provide a training opportunity for members to go door-to-door Saturday morning, and visit people in the afternoon who had attended previous outreach events. They were going into the community to provide a face to Bethlehem and invite people to a Community Safety Night to be held at the new church. It was also an opportunity to conduct follow-up visits to connect again with families who have attended outreach events in the past year.
Several factors arose that affected participation on Saturday. There were two unexpected funerals of members, a family reunion, homecoming for the local high school football team, deer hunting season, and the weather didn't cooperate. A cold front entered the valley Saturday that brought unseasonably low temperatures, a biting wind, and rain mixed with snow in the afternoon.
But this did not deter a group of determined members from going out and verbally proclaim the gospel. They stepped outside their comfort zones to talk with people and provide a short message about what Bethlehem Lutheran teaches.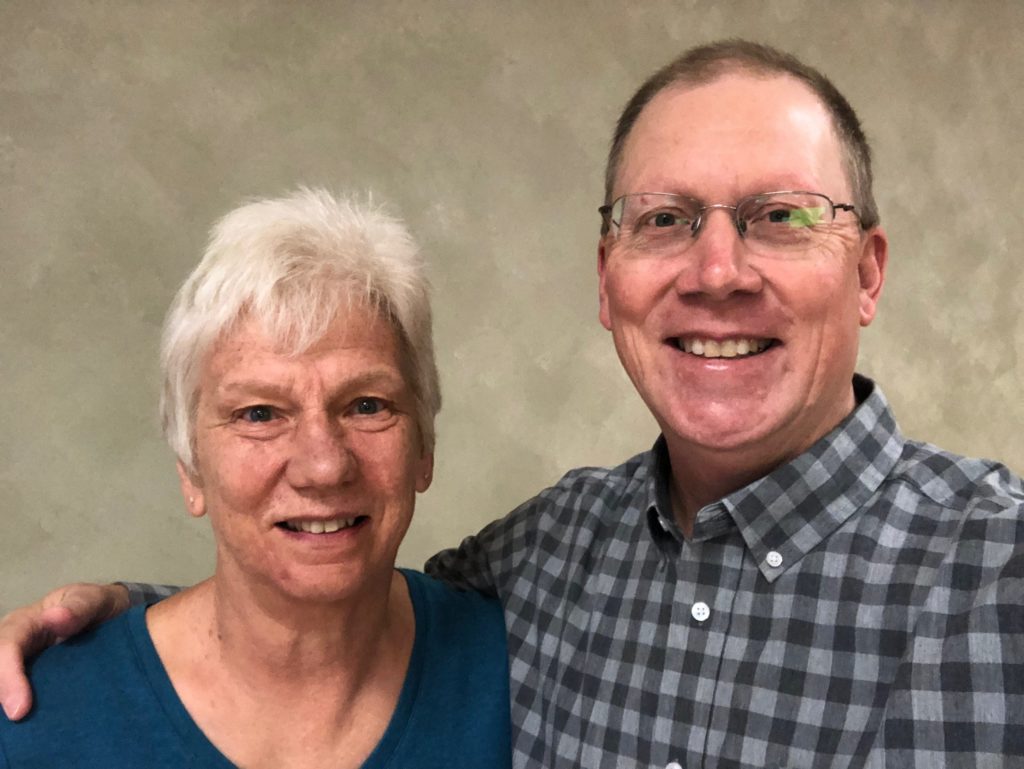 One member confessed that when she left training on Friday evening, she was determined not to drive another forty-five minutes on Saturday morning to participate. But when she woke up to a sunny sky on Saturday morning, she felt it was God's encouragement to come and participate despite her fears and trepidation. It was a blessing to have her participate.
We rejoice that Bethlehem Lutheran will be launching its third Living Nativity event at the community center in December. Members now feel equipped and more eager than ever to connect with people and provide an invitation to "Return to Bethlehem" and to come to Bethlehem on Sunday. More importantly, they can use both invitations to provide a short gospel message.
When the outreach initiative came to an end on Saturday, the pastor and his members knew this was only the beginning. With a renewed zeal to bring as many people as possible to heaven through the power of God's Word, and a trust that God will bless their activity, plans are already moving forward to take full advantage of the evangelism training provided by Praise and Proclaim Ministries.
May the Lord continue to bless the ongoing gospel ministries that make up Christ Countryside WELS – and the new mission plant in Western Wisconsin.
With a renewed zeal to bring as many people as possible to heaven through the power of God's Word, and a trust that God will bless their activity, plans are already moving forward to take full advantage of the evangelism training provided by Praise and Proclaim Ministries.
Praise and Proclaim partners with congregations to help train members and leaders how to comfortably and confidently proclaim the gospel.
Enter your email address below to receive notifications of new posts by email.
Conquer Evangelism Fears, Build Outreach Momentum
Christians who have trained with Praise and Proclaim conquer their fears and apply a simple, memorable method for witnessing to friends, family and their communities. To learn more about how Praise and Proclaim can partner with your gospel ministry, contact us today.