Praise and Proclaim was blessed with the opportunity to launch an outreach initiative at St. Matthew's Lutheran Church in Oconomowoc, WI the weekend of September 30 – October 1.
A forty-five-minute drive west of downtown Milwaukee, the city Oconomowoc has an estimated 2020 population of 18,000 people. New housing developments along with several recreational options with the nearby lakes, trails, and several popular golf courses make it a popular place to live.
While celebrating "100 years in God's Grace," St. Matthew's Church is undergoing another aggressive building project. They recently sold their church property in the downtown area and are currently constructing a new worship center that is adjacent to their school north of town. The $10.5 million dollar building project is set to be completed next spring and will house the new sanctuary and additional classrooms along with meeting and gathering spaces.
In the summer of 2018, St. Matthew's opened its doors to the First Steps Child Care Center that offers child care for children ages six weeks to five years. The center also offers before and after school care and summer care for students in 3K through 8th grade.
Combined with over two hundreds students in its K-8 day school, people in the Oconomowoc community are taking full advantage of the school and child care center. The church is now blessed with over 1,300 baptized members and looking forward to expanding their outreach efforts once the new construction has been completed.
The intent behind the outreach initiative was to enhance their gospel activity and provide meaningful evangelism training for members. The training included half of the junior class at Wisconsin Lutheran Seminary who drove almost an hour to participate on Saturday over the weekend.
This was an opportunity to help the congregation take advantage of the new dynamic in evangelism. Since less people are coming to church to hear God's Word during a worship service, it is becoming imperative for congregations to bring the Word to the community – both personally and digitally.
A web landing page was constructed that included a short message from the pastor and an opportunity for visitors to opt-in and download a document, "Thirty Ways to Find and Spread Hope."  With every email opt-in, the church office would continue to engage and invite interested members of the community to learn more about true hope in Christ.
A half-page invitation was printed to provide a physical tool to spread the Word. Members were trained to point people to a QR code to help spread hope in the community and view a short message of from one of the pastors.
An important element of every outreach initiative is to have people immediately put their training into action by going out into the community and talk to people door-to-door. This helps participants to conquer normal fears of evangelism and learn that people respond well when using an approach that is loving and respectful.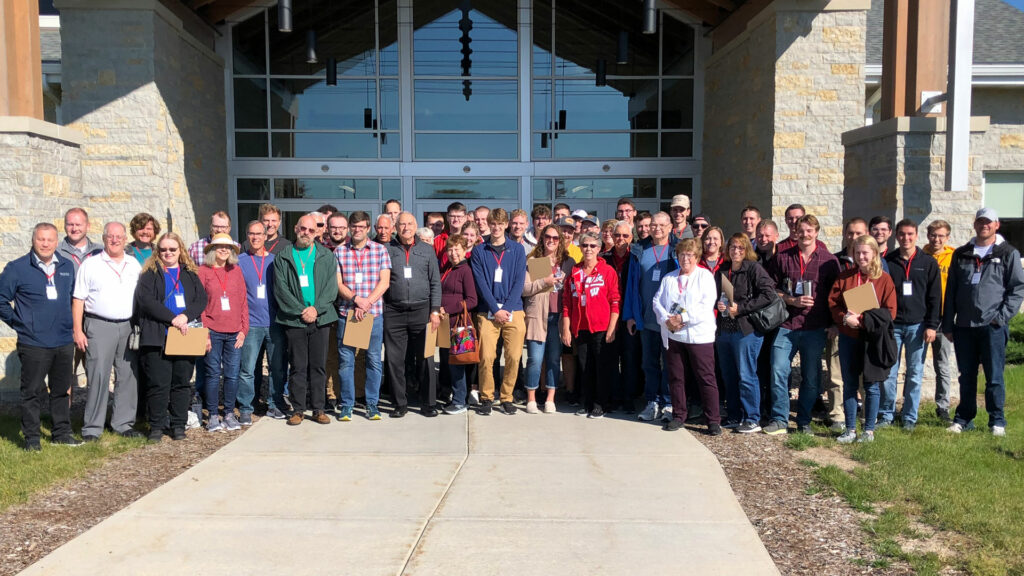 While canvassing in Oconomowoc, we discovered that:
People in the community are genuinely nice. Even when they were not interested about St. Matthew's church, they were polite to the people at the door.
It was impressive to see the number of people who were both aware and curious about the new construction off Brown Avenue. They have observed the signs and seen the recent construction. It was apparent that people would welcome updates about the new building project and would appreciate an invitation to see the new building once it was completed.
The new construction was a great talking point with people and gave members a solid reason to be at somebody's door.
One lady warmly welcomed one of the teams from St. Matthew's and told them that she was looking for a church and an opportunity to baptize her two-year old child.
Another lady expressed interest to learn more about God's grace and the true hope found in Christ. She had never been baptized and desired to take a Bible information class with the pastor.
Another young family had recently moved into the area and were looking for a church. Now that they have a two-year and another on the way, they recognized it was important for them to connect with a nearby church.
An elderly lady expressed regret that she was no longer physically able to attend church. She requested that one of the pastors at St. Matthew's could stop by and visit.
It was apparent to the participating teams that God not only opens doors, but he also provides unique opportunities to connect and engage with people who desire to know Jesus or want to be a part of a church family.
May the Lord bless the ongoing gospel ministry at St. Matthew's Lutheran Church in Oconomowoc and the exciting new construction.
We are also thankful for the seminary students who arrived on Saturday to participate. We pray that this was a meaningful experience to enhance their training and prepare them for future service.
It was apparent to the participating teams that God not only opens doors, but he also provides unique opportunities to connect and engage with people who desire to know Jesus or want to be a part of a church family.
Praise and Proclaim partners with congregations to help train members and leaders how to comfortably and confidently proclaim the gospel.
Enter your email address below to receive notifications of new posts by email.
Conquer Evangelism Fears, Build Outreach Momentum
Christians who have trained with Praise and Proclaim conquer their fears and apply a simple, memorable method for witnessing to friends, family and their communities. To learn more about how Praise and Proclaim can partner with your gospel ministry, contact us today.