In partnership with the South Central District Mission Board, Praise and Proclaim was commissioned to go to Arkansas to help activate a core group of WELS members and start a new church in a fast-growing area.
The community of Bentonville is considered one of the top 10 fastest growing cities in the U.S. With a current population of 54,000 people, it has grown 54% in the last ten years.
Our goal with the core group was to provide comprehensive evangelism training so they can feel comfortable engaging people, planting seeds of God's Word, and inviting interested people to be a part of their core group. The intent was to take full advantage of the new dynamic in evangelism by feeling equipped to spread the Word both personally and digitally.
Five days before the on-site training that took place at Beautiful Savior Lutheran Church in Bella Vista, Praise and Proclaim launched a digital advertising campaign on Facebook to point people to a landing page. This page will be serving as a tool for the core group to spread the Word and to collect email addresses.
In conjunction with the initiative, a meaningful experience was provided for the participants to go door-to-door in Centerton – a city bordering west of Bentonville. The people we met at the door in the Centerton community were friendly and welcoming. Because of the region, many people were comfortable talking about religion and stated their agreement when proclaiming the gospel.
The Lord provided solid contacts with people who expressed interest to learn more about our small group. In each case, the people had some type of church background. They were either looking for something different or felt disconnected with their church.
One man had just moved into the neighborhood from Nebraska. Upon arrival in their new home, his wife suffered a stroke. The rehabilitation has been long and arduous. Even though they belonged to a large church in the area, he felt distant and disconnected. The thought of joining a small, close-knit group that gathered around God's Word sounded very appealing. He gave the team his email address and cell phone number to further engage and find out more information.
In the afternoon, we felt it was most appropriate to knock on doors in the first hour and stop knocking when the Arkansas Razorbacks game kicked off at 2:30 p.m. We left behind the half-page flyers. Since it was a warm, sunny day, there were several people working outside during the game. They were willing to be engaged and it was interesting that I talked to more people who were out in the yard or working in their garage during the football game rather than knocking on doors.
Clipboard Promises
A member of the core group was in charge of clipboards for canvassing. She created Bible verses on colored paper and attached them to the clipboard.  Each of the verses gave wonderful promises for participants who went out to spread God's Word in Centerton.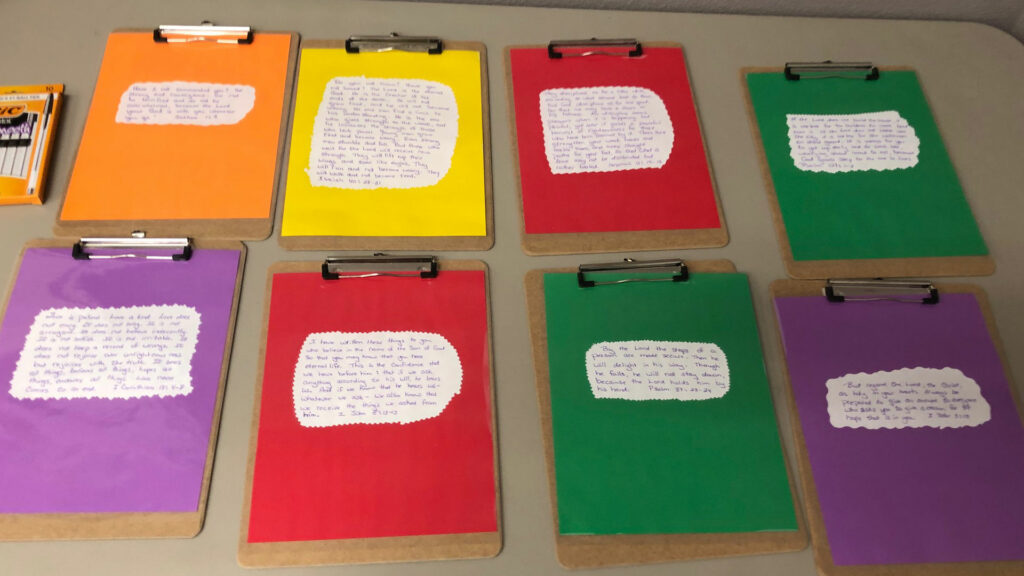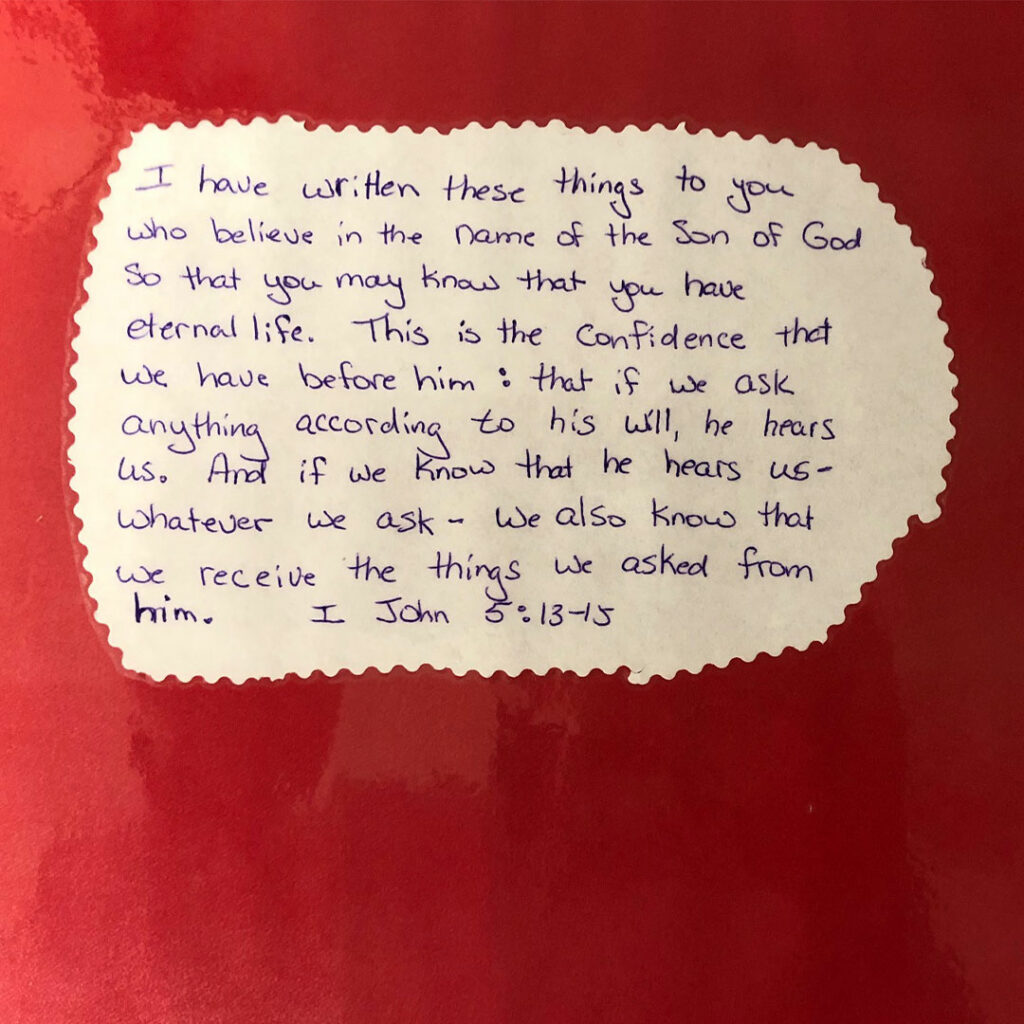 Training in Action
During the Sunday morning Bible Study, we talked about 1 Peter 3:15. The verse encourages us to be prepared to give a reason for the hope we have in Christ. Quite often, as the verse suggests, the Lord provides opportunities to witness.
A member at Beautiful Savior who attended the Friday evening training shared an experience she received on Saturday to put her training into action. She was physically unable to go canvassing but met a lady she knows at a neighborhood yard sale. In their conversation, she had the boldness to lovingly declare God's forgiveness and what Christ has already done for us. It was an excellent example of what Praise and Proclaim attempts to do with every outreach initiative. People can talk to others about their faith in Christ. They can tell others the Good News about what Christ has already done.
May the Lord bless the ongoing efforts to proclaim the gospel in the Bentonville area. By God's grace, we ask that he provides a new WELS church to be planted in the area.
Our goal with the core group was to provide comprehensive evangelism training so they can feel comfortable engaging people, planting seeds of God's Word, and inviting interested people to be a part of their core group.
Praise and Proclaim partners with congregations to help train members and leaders how to comfortably and confidently proclaim the gospel.
Enter your email address below to receive notifications of new posts by email.
Conquer Evangelism Fears, Build Outreach Momentum
Christians who have trained with Praise and Proclaim conquer their fears and apply a simple, memorable method for witnessing to friends, family and their communities. To learn more about how Praise and Proclaim can partner with your gospel ministry, contact us today.