Amazing Grace Lutheran Church is a new mission start in Amarillo, Texas. Praise and Proclaim is thankful for the opportunity to come and provide evangelism training for the core group (March 4-5) and help start gospel activity to spread the Word in west Texas.
With an estimated population of 200,000 people, Amarillo is the largest city in the Texas panhandle.
A core group of several families have been meeting together for the past ten years in Amarillo. They purchased a 15-person van and drove together once a month to Lubbock, TX to join Shepherd of the Plains Lutheran Church to worship with them. They would also regularly meet together on Sunday mornings to worship on-line with live stream or taped services. Sometimes, the pastor from Lubbock would drove over to Amarillo to meet with them.
Board of Home Missions designated Amarillo as a funded mission in 2021 that enabled the core group to receive a full-time pastor.
After serving for two years at Martin Luther College upon graduation from Wisconsin Lutheran Seminary, Rev. Hans Thomford and his wife, Amelia, arrived in the summer of 2022 to be the new pastor and help start the church. For the past several months, they have met with the core group, began networking with key people in the community, and recently constructed a strong digital presence that includes a website and a logo.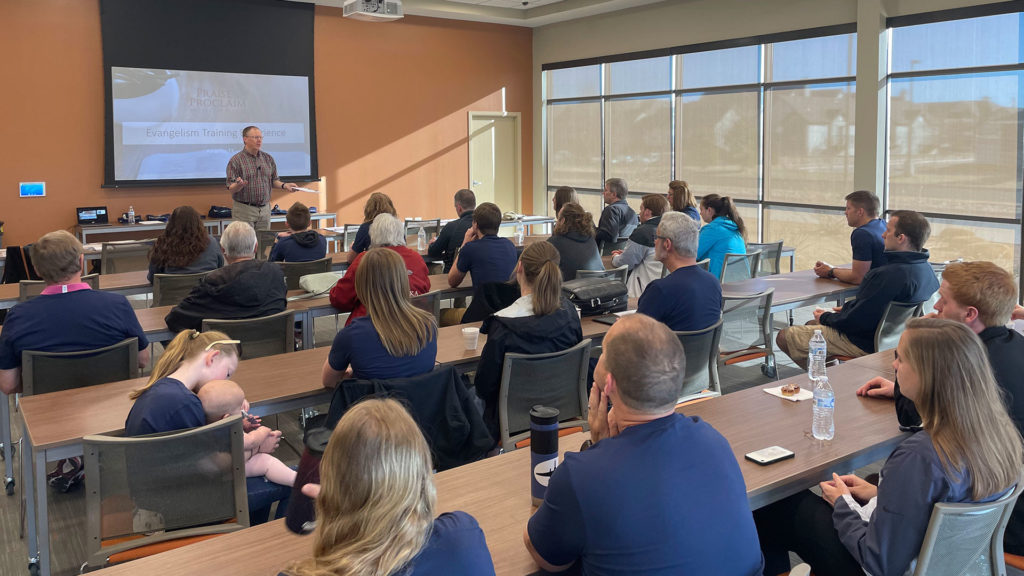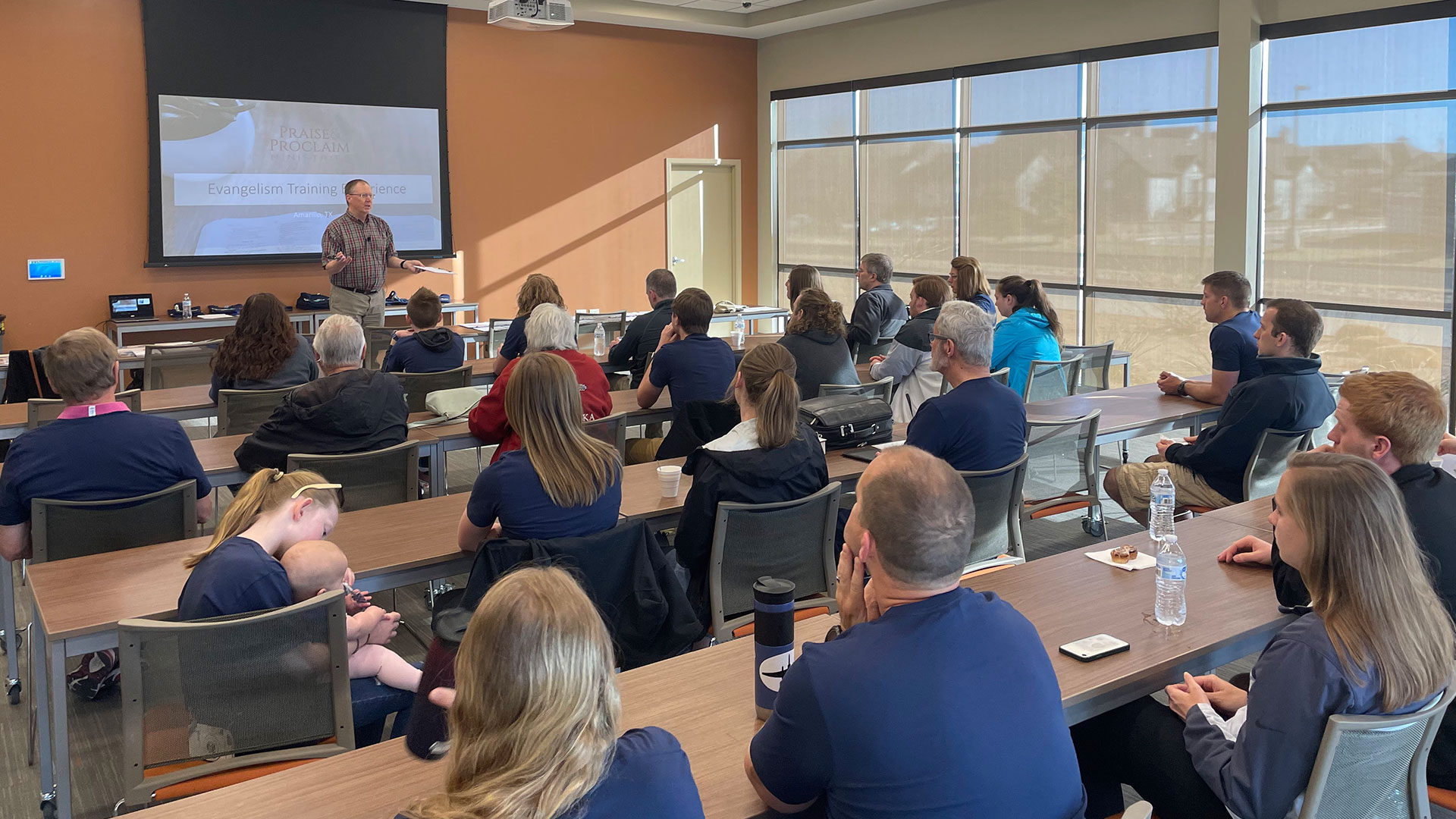 The New Dynamic in Evangelism
Amarillo is the first outreach initiative Praise and Proclaim conducted in 2022. For the past several months, the ministry has been busy modifying and enhancing its comprehensive evangelism training that includes a strong digital component.
Since more people are reluctant to come on Sunday mornings to hear the Word, it is becoming more essential for congregations to bring the word to the community – both personally and digitally. Therefore, its imperative that every outreach initiative includes a strong digital witness. An evangelism landing web page is built for a congregation to point people to view and receive God's Word. The invitation to the web page becomes a crucial part of our evangelism training.
The web landing page includes a unique call-to-action for every visitor. They receive an invitation to participate with the congregation to help spread hope in the community. By clicking a box on the landing page, they will receive an email that includes a free resource entitled "Thirty Ways to Spread Hope." There are suggestions for people to help spread hope. Included in the resource are opportunities to "pause and reflect" on Bible passages that talk about receiving true hope in Christ, plus more information about the church.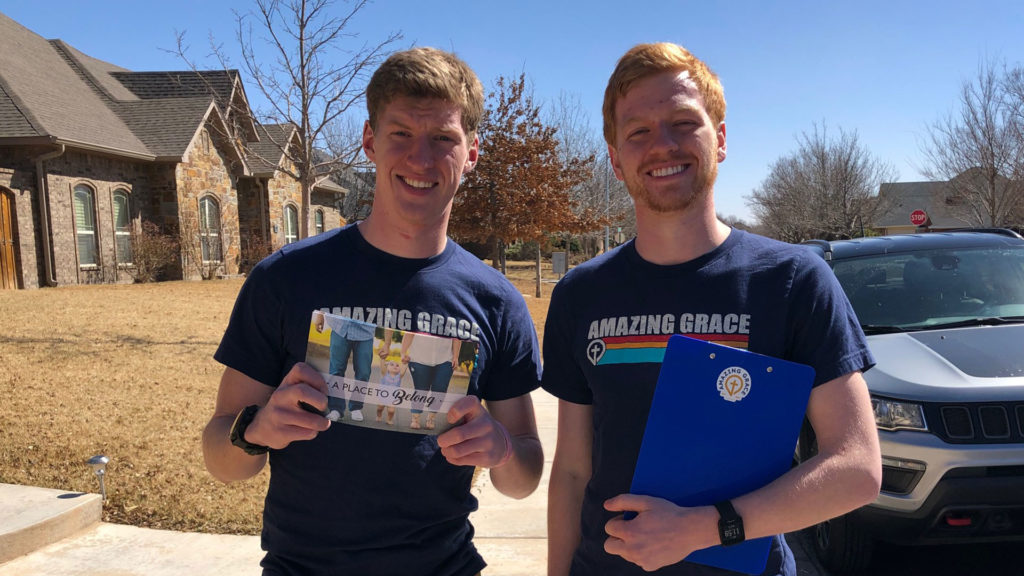 Evangelism Experience
A core component of every Praise and Proclaim outreach initiative includes a meaningful, well-organized experience for members to put their training into action. The evangelism experience includes going out into the surrounding neighborhoods to meet people at their door.
We discovered in Amarillo that people responded well to the invitation to help Amazing Grace Lutheran spread hope in the community. This enabled people to pique their interest about the new church and engage people effectively to hear a short message about what Jesus has done for us.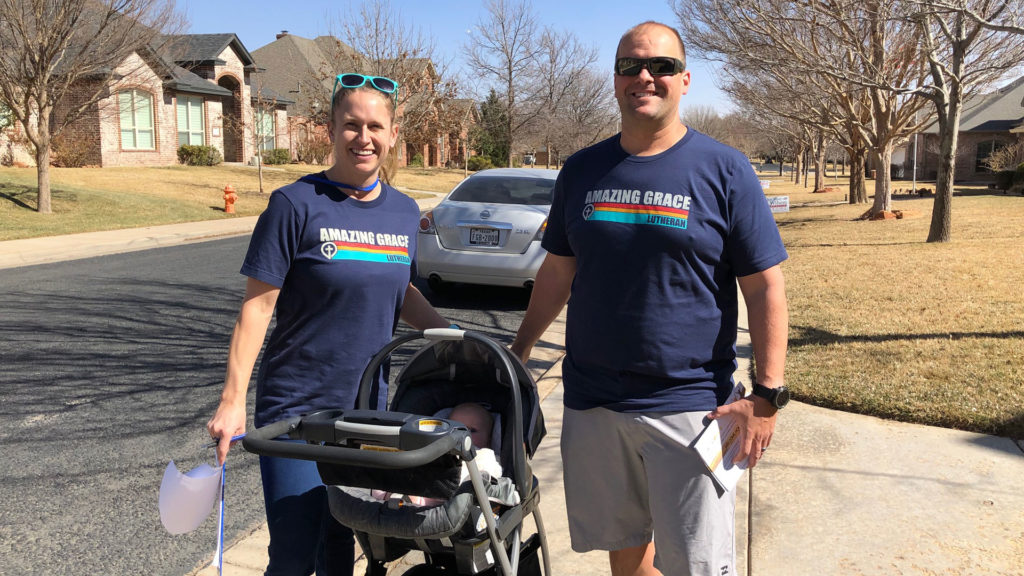 Doorbell Witnessing
By going out to talk to real people about a real Savior, people soon learn that when you treat others with love and respect, most people are going to be polite even though many may not be interested. Due to the large number of new homes that we visited in Amarillo, many homes have a RING doorbell that allows people to answer remotely or record people at their door. Many of the participants took advantage of this and attempted "doorbell witnessing." This means introducing themselves to the RING camera and providing a short reason for the hope we have in Christ and inviting people to the evangelism web page.
Students from Martin Luther College
Ten sophomores from Martin Luther College joined the Praise and Proclaim outreach initiative as part of their spring break. As part of the MLC DayLight program, they joined other MLC students who are travelling around the U.S. to assist gospel ministries and further their training with meaningful and practical experience.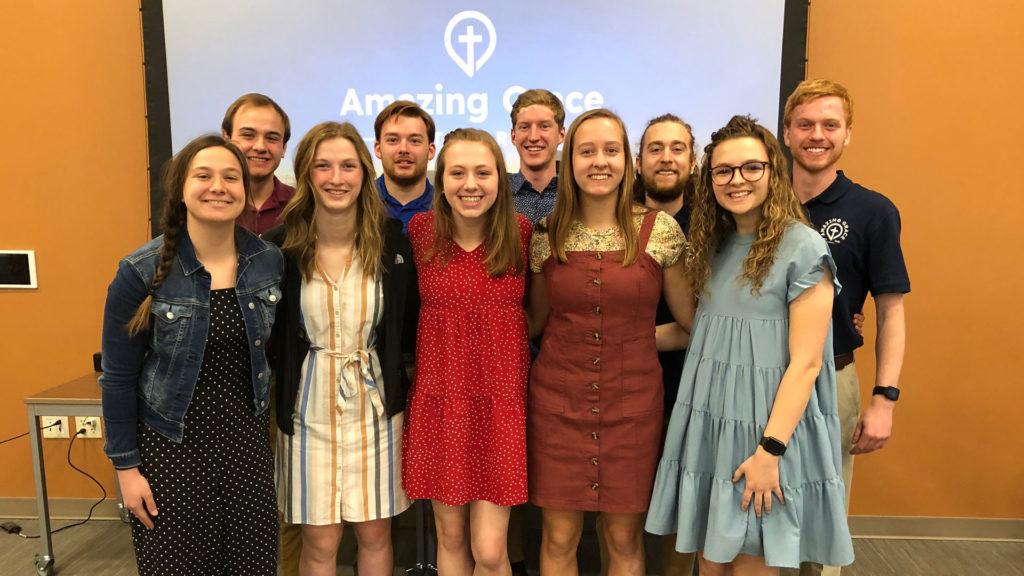 Good Shepherd Lutheran Church – Midland, Texas
Rev. Pieter and Marlys Reid – retired pastor and former world missionary – current is serving at Good Shepherd Lutheran Church in Midland. They brought two families and drove four-hours to receive evangelism training. Praise and Proclaim always extends invitations for other WELS/ELS churches to participate at any outreach initiative. Their presence and participation is not only a blessing for the congregation – but also a blessing to help further God's kingdom in their own community.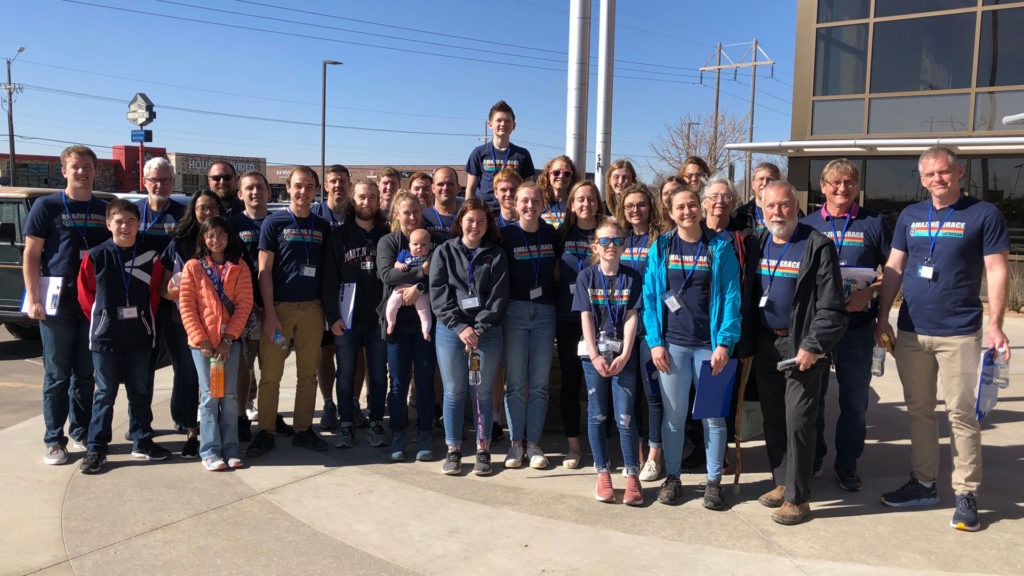 We give thanks for the opportunity to lead an outreach initiative in Texas. This was the 74th outreach initiative Praise and Proclaim has conducted in twenty-four states and Canada since our ministry began in 2016. May the Lord bless this training and enhance the gospel activity planned this year in Amarillo.
We give thanks for the opportunity to lead an outreach initiative in Texas. This was the 74th outreach initiative Praise and Proclaim has conducted in twenty-four states and Canada since our ministry began in 2016.
Praise and Proclaim partners with congregations to help train members and leaders how to comfortably and confidently proclaim the gospel.
Enter your email address below to receive notifications of new posts by email.
Conquer Evangelism Fears, Build Outreach Momentum
Christians who have trained with Praise and Proclaim conquer their fears and apply a simple, memorable method for witnessing to friends, family and their communities. To learn more about how Praise and Proclaim can partner with your gospel ministry, contact us today.