In the sprawling metropolis of St. Louis, a new mission church started across the Mississippi River from the downtown area. Christ our Savior Lutheran Church recently was approved to receive funding from the Board of Home Missions that will allow them to have a full-time pastor.
But this congregation is not necessarily a new start. For the past thirteen years, members have rented a space in a business park in Collinsville, IL. The gathering core group were members of Martin Luther Lutheran Church, a WELS congregation in St. Louis that began in the 1970s. Considered a preaching station, the pastor at Martin Luther has been faithfully serving both locations.
Pastor Seth Georgson arrived from Arizona several years ago and in conjunction with the district mission board and a WELS mission counselor, the group began to organize themselves and present a request for funding. With great rejoicing, their request was accepted.
Praise and Proclaim ministries arrived to provide evangelism and outreach training for the core group at Christ our Savior. Included in the invitation were members from Martin Luther. The intent was to train and equip the members, plus help execute outreach plans to reach the surrounding neighborhoods. By the time a new pastor arrived, the core group would be fully prepared and ready to serve with the pastor and carry out gospel activity.
The training was held at Martin Luther which was approximately thirty minutes away from Collinsville. We were blessed to have a solid group of members from both congregations in attendance so they could all learn how to bring the Word to friends, neighbors, and member of the community both personally and digitally.
After receiving two and a half hours of training on Friday evening, a training exercise was provided for participants to put their training into action. An impressive number of members arrived the following day to go door-to-door to employ Praise and Proclaim's methodology. They trusted God's promises and assurances and received a meaningful experience meeting friendly people, introducing them to their congregation, and provide a short gospel message.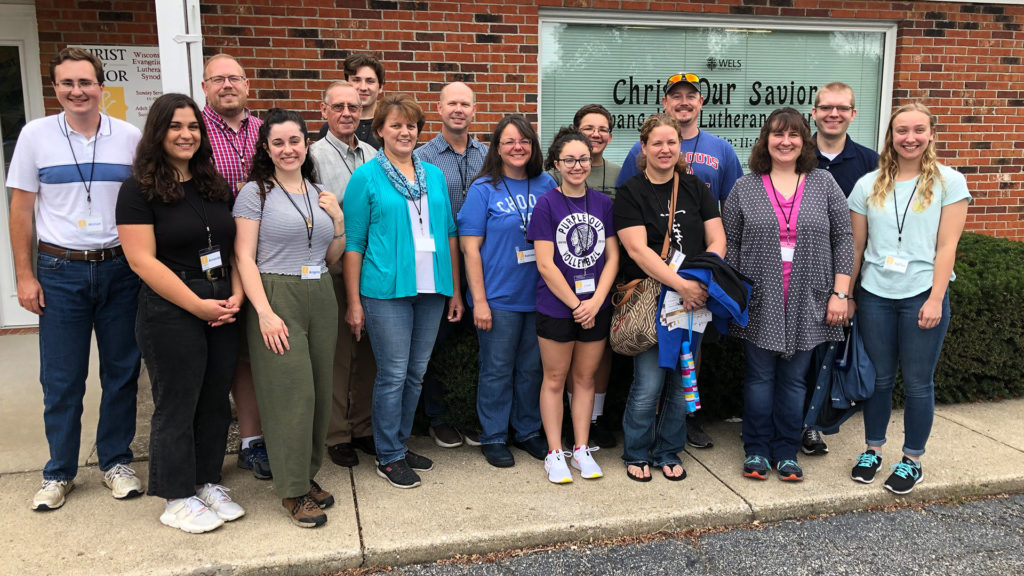 An interesting aspect of the neighborhoods surrounding Christ our Savior is the wide array of single-family residences. Within a two-mile radius, there are older homes with established residents and newer homes. Tucked in the middle, is a cluster of large homes that are built around a beautiful small lake.
Less than a mile away, there is a sprawling, well-used county park that includes a lake for rowing and canoeing, plus large ballfields for baseball and softball. Yet, it was evident that the most popular feature of the park is a challenging disc golf course. Several groups of young college-aged men could be seen throughout the course and having a great time together. This could be a potential location to introduce Christ our Savior.
Praise and Proclaim left Collinsville with a solid impression of the faithful members in St. Louis and Collinsville. Their eagerness to learn was evident. Their enthusiasm to serve their Lord was infectious. Their excitement to have a full-time pastor to lead and shepherd their congregation was a joy to observe.
May the Lord bless their efforts to spread the Word! Praise and Proclaim leaves Collinsville with confidence that there is a faithful group who are ready and willing to put their evangelism training to work – out of love and thankfulness for Christ – our Savior – who lives and reigns in the hearts of all who trust in him.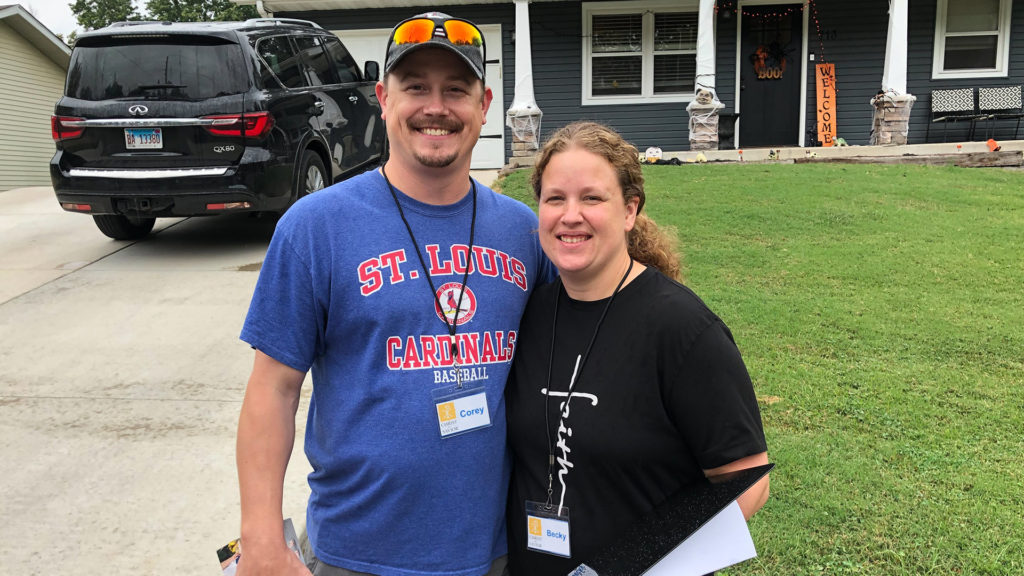 One More Thing
A part of the faith family at Christ our Savior are several Christian families who are part of the deaf community. On Sunday morning, a sign language interpreter comes to sign the worship service and the sermon message.
One married couple who are completely deaf decided to come on Saturday to participate in the canvassing activity. Since they were part of the Christ our Savior family, they wanted to serve with them in this important training exercise. They accompanied the pastor at the door in the morning and afternoon to assist the congregation's efforts to spread the Word. It was inspiring to see them put their faith into action and be a source of encouragement for all of the participants.
Praise and Proclaim left Collinsville with a solid impression of the faithful members in St. Louis and Collinsville. Their eagerness to learn was evident. Their enthusiasm to serve their Lord was infectious.
Praise and Proclaim partners with congregations to help train members and leaders how to comfortably and confidently proclaim the gospel.
Enter your email address below to receive notifications of new posts by email.
Conquer Evangelism Fears, Build Outreach Momentum
Christians who have trained with Praise and Proclaim conquer their fears and apply a simple, memorable method for witnessing to friends, family and their communities. To learn more about how Praise and Proclaim can partner with your gospel ministry, contact us today.