Praise and Proclaim returned to Fond du Lac WI to launch its sixty-seventh outreach initiative with Redeemer Lutheran Church since the gospel ministry began almost six years ago.
In 2019, Good Shepherd Lutheran in Fond du Lac hosted an initiative with the Wisconsin Lutheran Seminary. Members from the congregation partnered with the first-year seminary students to provide a meaningful experience to meet people in the community and proclaim the gospel.
Two years later, Praise and Proclaim partnered with Redeemer to train its members and welcome members of the first-year seminarians who arrived on campus for the first time only three weeks ago.
Redeemer Lutheran Church and School is one of several WELS congregations in the Fond du Lac area. They are a congregation that actively engages the community and were looking forward to enhance their faithful gospel ministry with personal evangelism training. The outreach initiative from Praise and Proclaim assists members to be active in their witnessing and how to specifically apply digital evangelism within their personal network.
Wisconsin Lutheran Seminary
Praise and Proclaim eagerly welcomed the opportunity to partner with the Wisconsin Lutheran Seminary and provide comprehensive evangelism training for its incoming junior class. The training was divided into three components.
Provide a half-hour recorded webinar to introduce the concepts and goals of our training.
A fifty-minute presentation in the classroom to teach the class how Praise and Proclaim trains people to verbally proclaim the gospel.
Provide an on-site experience to put their training into action. The students were given the option of either driving north an hour to participate with Redeemer in Fond du Lac or drive locally to Wauwatosa two weeks later to participate with St. John's Lutheran Church.
Another aspect of the on-site experience was to provide an opportunity for seminary students to partner with a member of the congregation to go out proclaiming. This had proven to be a meaningful experience for the member and the student.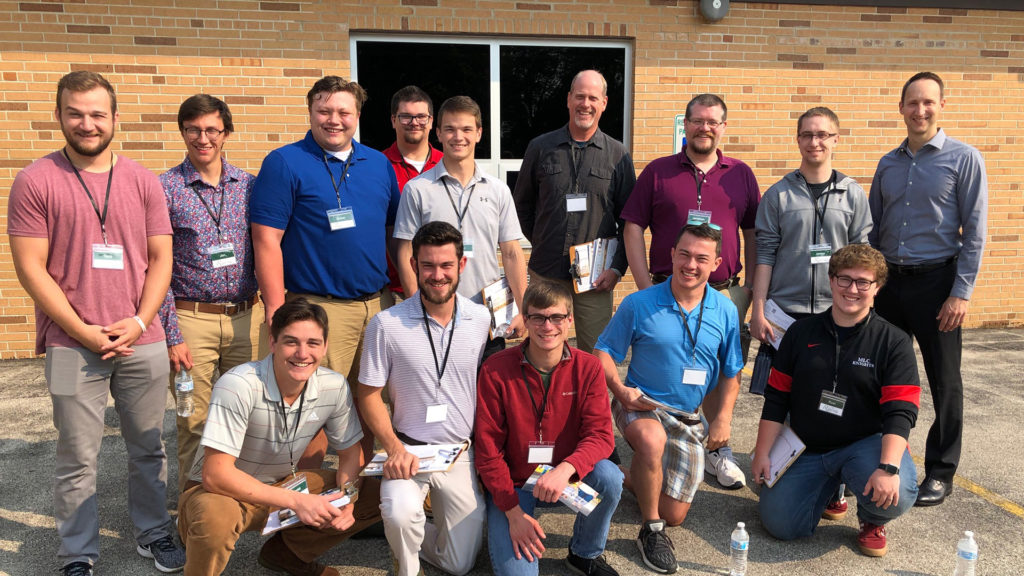 Digital Evangelism
An important component of the outreach initiative was the development of a web page for the purpose of training and conducting digital evangelism. The web page included video messages from both pastors at Redeemer – Rev. James Borgwardt and Rev. Chris Rathje. The web page also provided an opportunity for visitors to download an ebook.
A half-page invitation was printed to be utilized as a tool to help members engage their audience, provide credibility, and transition to verbally proclaiming a reason for the hope that all believers have in Christ. The invite provided a Q/R code to directly access the page. Members were taught how to provide this link in their social media accounts.
The half-page invitation also provided information about Redeemer's upcoming Fall festival. This annual outreach event includes an outdoor worship service at the church followed by games and lunch for the entire family.
Evangelism Experience
Praise and Proclaim provides comprehensive evangelism training that includes a meaningful experience for participants to immediately put their training into action. Evangelism is scary and intimidating for most faithful Christians. It's 100% contrary to our human nature. Therefore, faithful Christians step outside of their comfort zones and fully trust God's promises and assurances to verbally proclaim what Christ has already done for the world.
By going door-to-door, Praise and Proclaim can provide a meaningful experience by discovering that one way to conquer fear is to understand that they did not need to fear anything. People are people. When you treat people with love, gentleness, and respect, it is highly likely that they are going to respond politely. A door is opened, an audience is gained, a gospel seed is planted, and a believer has carried out their commission of being God's messenger. Believers can walk away with the assurance that God can go to work through the power of his Word.
An area designated by Redeemer Lutheran Church is situated only ten minutes away from the congregation. New housing developments are being built in an area west of the Fond du Lac airport. It was decided that this could be an excellent place to introduce Redeemer Lutheran Church and School, plus plant seeds of the gospel.
Utilizing Praise and Proclaim's methodology and approach, members of the junior class at WLS knocked on several hundred doors and talked to about a hundred people. Each of the guys received opportunities to visit with a person who expressed interest to learn more about the church or what Christ has already done for us on the cross.
One enthusiastic seminarian was greeted by a small dog who was barking at him through the screen door. Though the owner didn't come to the door, the seminarian knew he would be listening. He took advantage of the dog's presence and decided to practice proclaiming the gospel to the dog by giving a reason for the hope we have in Christ. This type of proclamation is similar to proclaiming the gospel at a RING doorbell.
Another seminarian is a second-career student from Alaska. A former police officer in Kenai, Chris took part in a Praise and Proclaim outreach initiative that was held at Grace Lutheran in Kenai about four years ago. At the time, he was starting his PSI studies to become a pastor. It was a joy to see him in Fond du Lac and how God had provided him and his family with the means for him to continue his studies to become a pastor.
On Sunday, a member at Redeemer told us that she had already applied the methodology she learned on Friday and proclaimed the gospel to a friend. It was a bold first step for her and an answer to prayer.
The initial plan was to have a seminary student partner with a member at Redeemer. However, plans changed after, a prominent member of Redeemer went to heaven several days before the outreach initiative. With the funeral held on the same day of the outreach initiative, the member involvement was postponed to the following weekend.
May the Lord bless the ongoing gospel ministry at Redeemer Lutheran Church and School in Fond du Lac, WI. We pray that the training will help enhance the faithful work. We also pray that the seminary class received meaningful evangelism training.
By going door-to-door, Praise and Proclaim can provide a meaningful experience by discovering that one way to conquer fear is to understand that they did not need to fear anything.
Praise and Proclaim partners with congregations to help train members and leaders how to comfortably and confidently proclaim the gospel.
Enter your email address below to receive notifications of new posts by email.
Conquer Evangelism Fears, Build Outreach Momentum
Christians who have trained with Praise and Proclaim conquer their fears and apply a simple, memorable method for witnessing to friends, family and their communities. To learn more about how Praise and Proclaim can partner with your gospel ministry, contact us today.