Portland, Oregon is a unique city. There is a different mindset that fosters social concerns and pushes the envelope in its progressive lifestyle and liberal politics. It's a type of climate that requires evangelism strategies and methodologies to gain an audience to proclaim the gospel.
Within this climate, Hope Lutheran Church has arrived in the community of Tigard to become a bastion of true hope found only in Christ Jesus. This gospel ministry has its roots from Gethsemane Lutheran Church that started in the 1960s. The congregation is in the process of selling its extensive property to developers and starting a new church in conjunction with the WELS Board of Home Missions.  Rev. Paul Bourman arrived in the summer of 2020 to lead the efforts.
Despite the restrictions surrounding Covid-19, Hope Lutheran is starting to get the Word out. They have rented a ministry center in downtown Tigard. With a population of 45,000 people, the community is part of the Portland metropolitan area and considered the twelfth largest city in the state. Yet, there is a strong community identity. And Hope Lutheran church is discovering that the residents of Tigard are willing to hear the reasons for the hope we have in Christ.
Summer of Hope
Throughout the summer, a message of hope was transmitted digitally through digital advertising. Members of the community were asked to participate in a "Summer of Hope." This has turned out to be an effective way for the church to introduce itself to the community.
To assist the efforts of helping launch Hope Lutheran, WELS Mission Journeys helped coordinate two teams to come and be a part of a Praise and Proclaim Outreach initiative. A family from St. Peter's Lutheran Church in Sturgeon Bay, WI and a youth group from Grace Lutheran Church in Crivitz, WI arrived to help spread hope in the Tigard community.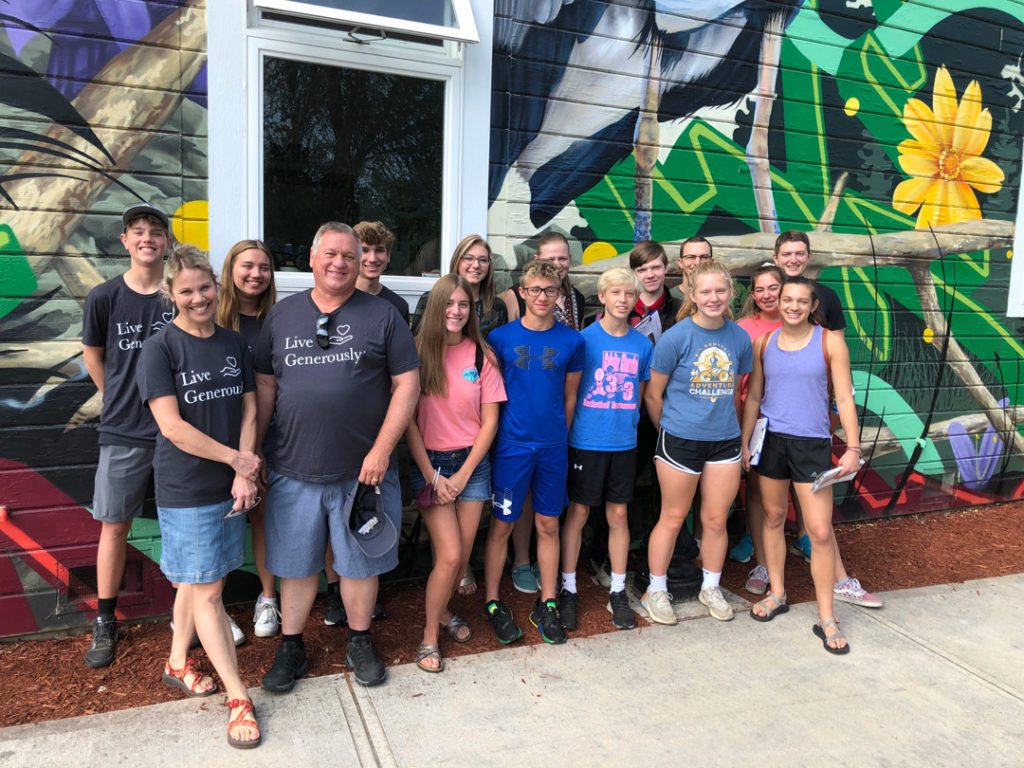 On Sunday afternoon, members from Hope and the mission teams received training. The following Monday and Tuesday, they went door-to-door to introduce Hope Lutheran Church, invite people to be a part of spreading hope in Tigard, and plant seeds of the gospel. The Lord blessed the efforts. Over a thousand homes were visited and the groups talked to over two hundred people. We rejoice that the Lord allowed us the opportunity to spread a message of true hope in Christ to 150 people.
The people we met at the door were genuinely friendly. They were impressed that teenagers had the courage to visit with them and proclaim their faith in Christ. Coupled with an approach and methodology that treats people with love and respect, the teens were able to gain an audience to hear a short gospel message. It is our prayer that this experience will have a lifetime impact.
Hope Lutheran Church is planning on moving their worship services to a well-known and popular community theatre in Tigard in November. We trust that the Lord will bless their ongoing gospel ministry and bring messages of true hope to a community that is struggling to find hope in turbulent times.
Residents of Tigard were impressed that teenagers had the courage to visit with them and proclaim their faith in Christ.
Praise and Proclaim partners with congregations to help train members and leaders how to comfortably and confidently proclaim the gospel.
Enter your email address below to receive notifications of new posts by email.
Conquer Evangelism Fears, Build Outreach Momentum
Christians who have trained with Praise and Proclaim conquer their fears and apply a simple, memorable method for witnessing to friends, family and their communities. To learn more about how Praise and Proclaim can partner with your gospel ministry, contact us today.