The Vine Lutheran Church is a mission congregation in Hayden, Idaho that was launched in 2016. Praise and Proclaim Ministries held one of its first outreach initiatives in the Coeur d'Alene community surrounding Hayden to help train a core group of members. Now, five years later, Praise and Proclaim returned to help a blossoming congregation.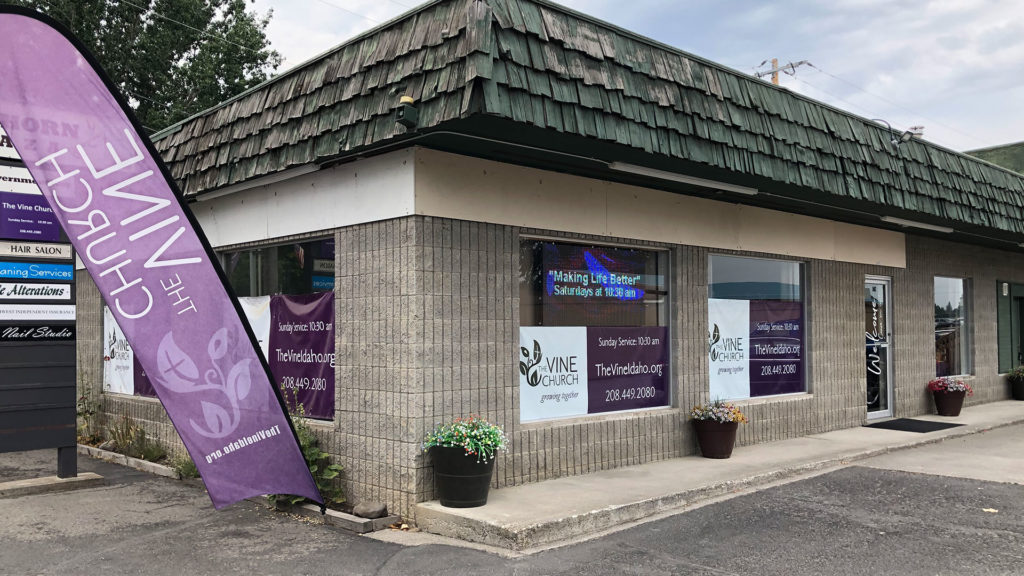 This outreach initiative was blessed to have a team from WELS Mission Journeys. A teen group from several congregations in western Minnesota arrived to assist efforts to proclaim the gospel in northern Idaho.
The teens were members from Immanuel Lutheran Church (Gibbon, MN), St. John Lutheran Church (Fairfax, MN) and St. Paul Lutheran in New Ulm. Teachers Macord Johnson and Anna Endorf from Prairie Lutheran School were the chaperones. Half of the students attend Minnesota Valley Lutheran High School in New Ulm and half were public school students from GFW High School (Gibbon-Fairfax-Winthrop).
Proclaiming the gospel in Hayden, Idaho
The Vine Lutheran is very active in their outreach efforts to connect and engage with the community. Their church ministry center is located at a business park in Hayden. With a population of about 15,000 people, this growing community borders Coeur d'Alene (estimated population of 55,000). The Lord is blessing their gospel activity and are actively looking to lease or purchase a bigger facility in the area.
A goal of this outreach initiative was to fully utilize the WELS Mission Journey team to help spread the gospel and gauge the awareness of the Vine in the surrounding neighborhoods.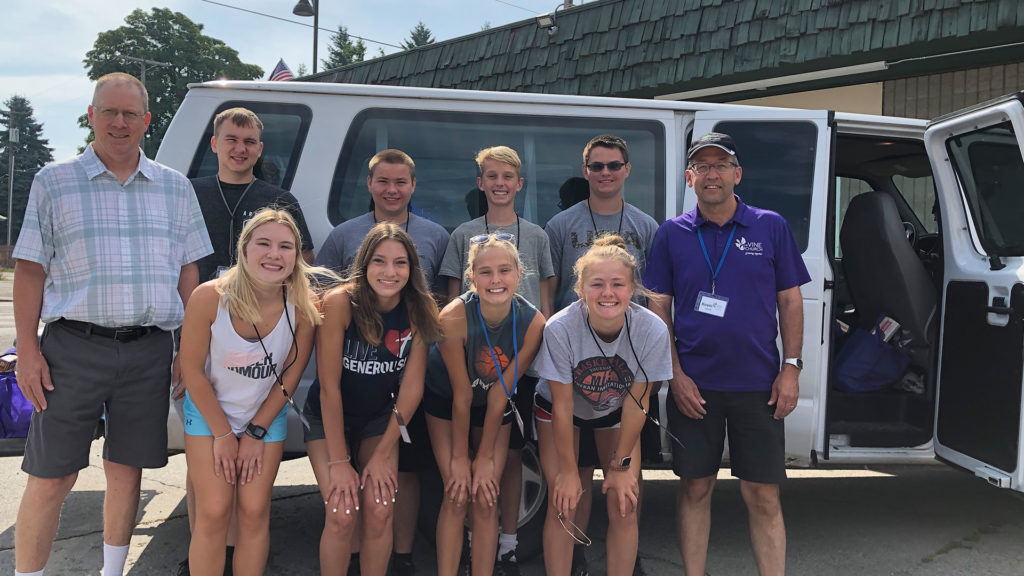 After receiving two and a half hours of training on Sunday afternoon, the teams went out into the community on Monday and Tuesday. They were trained how to talk to people by learning how to comfortably engage people and use a tool to transition into a short gospel message.
On Monday morning, the participants delivered "a free pasta dinner" from the Vine as an initial way to learn how to engage people at their door.
One lady was so grateful for the large bag of groceries that tears started to fall down her face. With three children surrounding her, she told our team that she recently had a miscarriage and was struggling emotionally. They came at a perfect time.
Another lady told a team that their family was struggling financially. She was so touched by the gesture, that she asked to be invited to participate with the Vine the next time they delivered free bags of food.
On Monday afternoon, the teams used a half-page invite to connect with people and invite them to view a series of short messages about hope that was produced by the Vine's pastor.
After a positive morning, the teens were brimming with confidence and boldly proclaimed the gospel.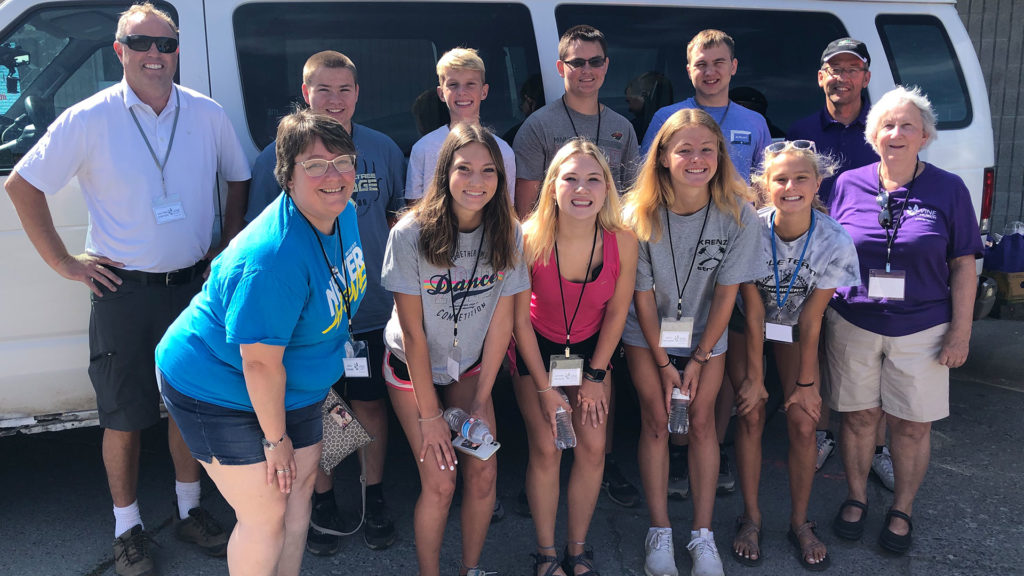 Here are a few stories from their experience:
A team came across a lady who expressed great concern about her brother who has pancreatic cancer. She asked the teen group if they could pray for him. Two teens immediately accepted and led a prayer at the door on behalf of her brother. Amazing!
There were many moms with kids at home who answered the door and were obviously impressed that teens were at their door and willing to express their faith. Most of the time, the teen groups were granted a window of opportunity to plant a seed of the gospel. It was impressive to meet many people who were already familiar with The Vine. A few families confessed that they recently considered attending a worship service.
One team came across a young boy who was following them on a bike. He thought it would be helpful to give a brief scouting report on each home they knocked on. He pointed out homes with families were on vacation, families with kids, and residents who were a bit grumpy.
An elderly woman greeted another team at the door. Once she found out that the team were from a church, she excused herself to find her boyfriend inside. A man came out and quickly sat in a lawn chair to tell a captivating story of how he was in a bad motorcycle accident and almost died. They were very interested to come to The Vine and appreciated the personal invitation.
At the last house of the day, a team knocked on a door that looked a bit run down with junk in the yard. Since the team included a teenager with an adult male, they decided to go and knock on the door. A man answered the door and it turned out to be a very positive conversation. It was apparent that he had a religious background, but probably had not stepped inside a church for a long time. He expressed great interest in the Vine and gave the team his contact information.
At the end of the day, the teams verbally proclaimed the gospel over 75 times!
We don't know the impact of our efforts of proclaiming the gospel in Hayden, but the Lord went to work through his Word. We do know that it had an impact on the WELS Mission Journey teams. I watched eight nervous teenagers on Monday morning step way outside their comfort zones and talk to people about their Savior. Throughout the day, I observed them growing in their confidence and excitement to proclaim the gospel.
I am confident that these teens are equipped and ready to engage their friends, neighbors, relatives, and adults who live in their community. Once teenagers receive training and get comfortable with the approach, they are excited, tireless, and exceptionally enthusiastic to serve their Lord. They are willing and able to talk to people about their Savior.
I am confident that these teens are equipped and ready to engage their friends, neighbors, relatives, and adults who live in their community.
Praise and Proclaim partners with congregations to help train members and leaders how to comfortably and confidently proclaim the gospel.
Enter your email address below to receive notifications of new posts by email.
Conquer Evangelism Fears, Build Outreach Momentum
Christians who have trained with Praise and Proclaim conquer their fears and apply a simple, memorable method for witnessing to friends, family and their communities. To learn more about how Praise and Proclaim can partner with your gospel ministry, contact us today.