A social commentator suggested that American society has fast-forwarded five years due to the onset of the COVID-19 virus.
I agree with that observation because of the effect this pandemic has had on congregational life and ministry.
As congregations are gathering for corporate worship while following social distancing requirements, they are discovering the power and the necessity for digital ministry. Live-streaming, You-Tube videos, worshipping at home, and Zoom meetings are now an accepted part of conducting gospel ministry and church business.
These shifts are not coming to an end but are bringing a radical change to our landscape. It's like coming back to your old neighborhood thirty years later and not recognizing any of the landmarks.
These changes are causing congregations to make major adjustments in their outreach strategies and activities to spread the Word.
This new reality has also caused Praise and Proclaim to make critical adjustments to our evangelism training (Read More: Personal Evangelism Training in a COVID-19 World).
Return to Wisconsin
It was a privilege to partner with Zion Lutheran Church in Columbus, WI (October 23-25) to launch a multi-faceted outreach initiative. This was Praise and Proclaim's first opportunity to incorporate modifications to help prepare a congregation to spread the gospel in a COVID-19 world.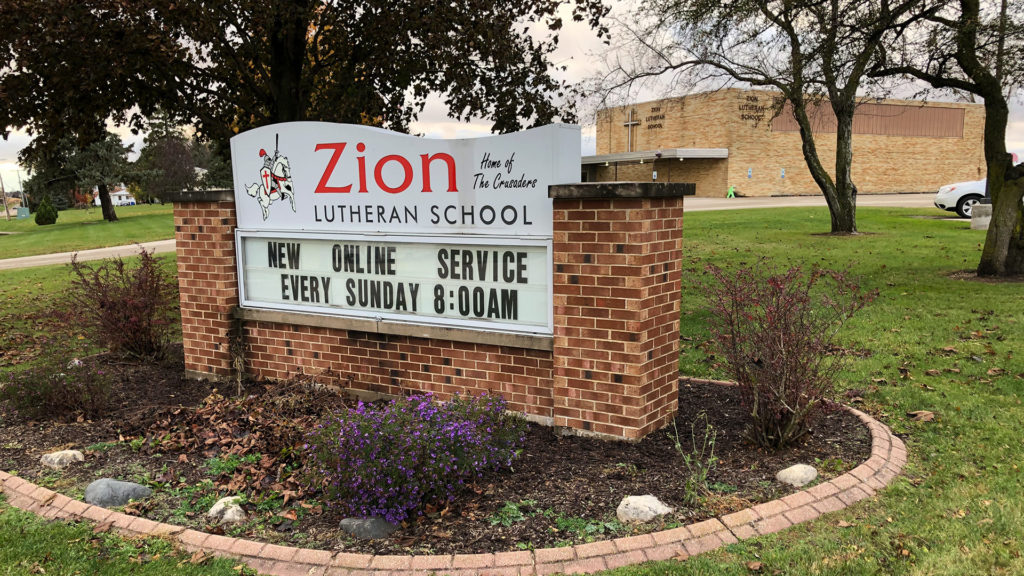 It was impressive that the leadership at Zion Lutheran determined that there was urgent need for their congregation to reach out to their community with the gospel during these uncertain times. They were acknowledging the following trends:
People are choosing not to come to church due to COVID-19 – and those without a church have valid reasons to stay home.
A digital strategy is a means to bring church to the unchurched in the community.
There is great value to utilizing a word-of-mouth network to spread the gospel – and that starts with the members instead of relying heavily on the pastors.
Personal invites to attend church are not going to be enough – people are wanting to know why it is important to come to church.
And yet, people are longing for community, connection, and hope.
While strictly adhering to the core principles of our evangelism training, the adjustments centered on preparing members to tell people what God has done for them. This includes learning how to comfortably engage people and transition to providing a short reason for the hope they have in Christ.
About Zion Lutheran
The city of Columbus, WI is approximately twenty miles northeast of downtown Madison and has an estimated population of 5,100 people. Newer homes are being built for families who want to move farther away from the growing Madison area. Zion Lutheran moved into a beautiful, new sanctuary that was built next to their K-8 school. Pastors Tim Schwartz and Benjamin Zuberbier are the associate pastors.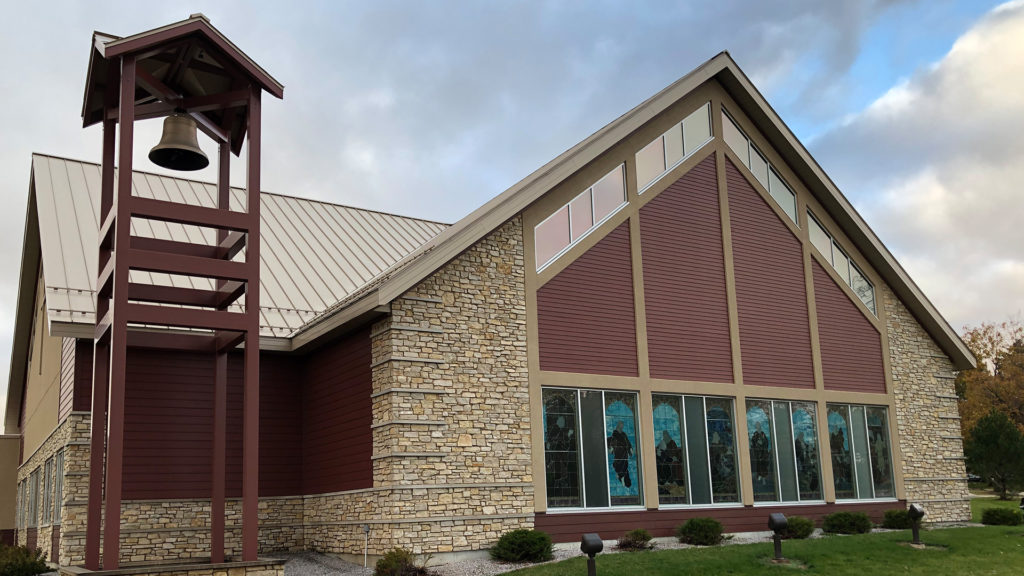 Evangelism Training
Praise and Proclaim's approach to providing evangelism training is to recognize that many faithful members have limited experience with proclaiming the gospel. Therefore, our priority is training people how to comfortably start proclaiming a short gospel message. By learning and mastering the basics, a person can receive positive experiences to say something when God provides opportunities to witness. Our comprehensive training also includes organizing and providing meaningful experiences to immediately put their training into action.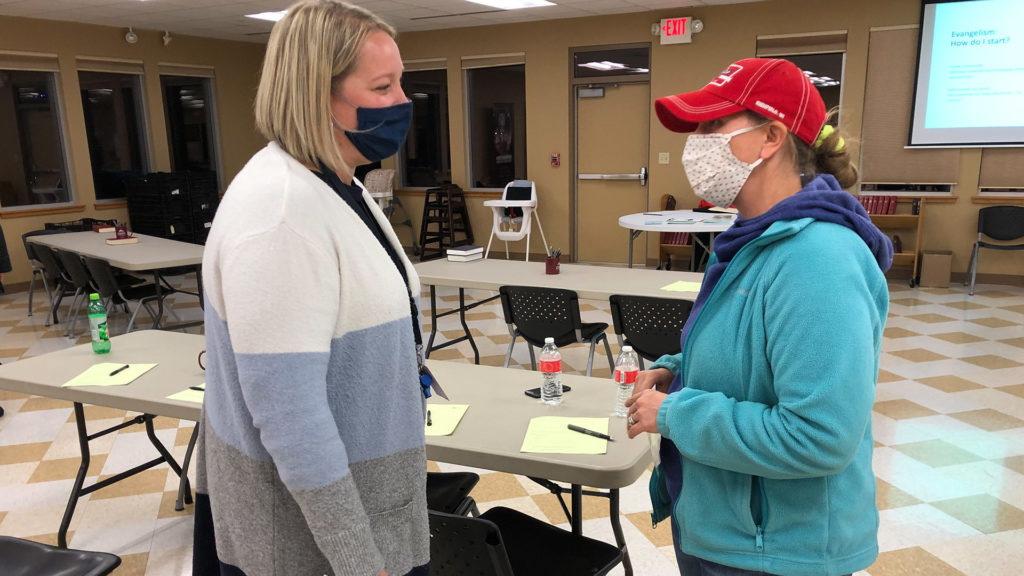 After receiving two and a half hours of training on Friday evening, participating members from Zion carried out a grocery outreach initiative in the morning followed by door-to-door proclaiming in the afternoon.
Read about Praise and Proclaim outreach initiatives in a COVID-19 world.
Impressions
Members from Zion delivered a free bag of groceries at low-rent apartment complexes in the city. The people who opened their doors expressed tremendous appreciation for the groceries and were grateful that some people cared about them.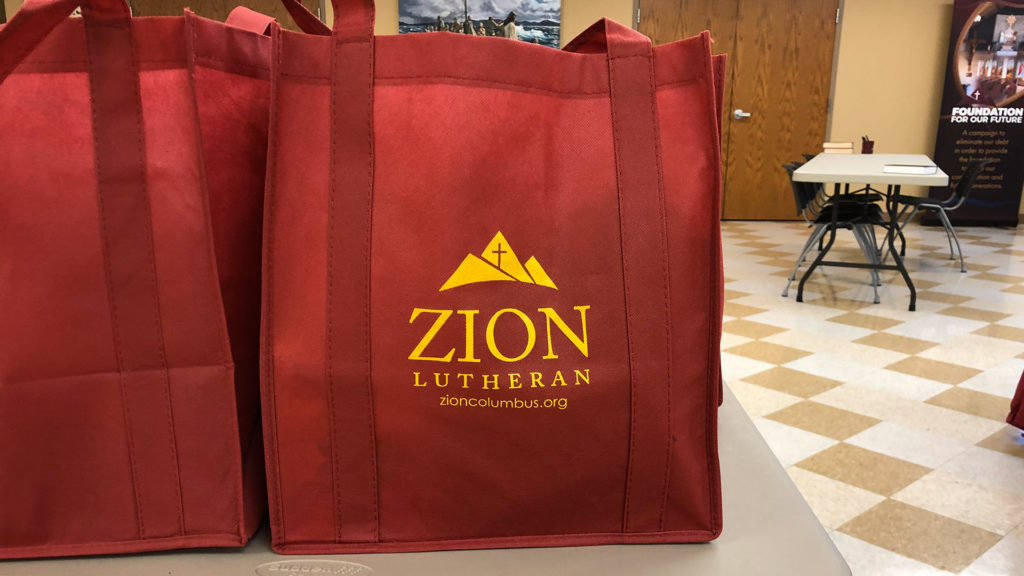 All participants from Zion wore facemasks and only one person at the door expressed concern that members from the church were knocking on people's doors.
The people we met at the door were genuinely nice people who did not seem to mind to have a person greet them at their door, especially if they were a member of a Christian church in the community. They were willing to hear a reason for the hope that we have in Christ.
Since Zion Lutheran is a big church in a small city, there were several occasions where faithful members from Zion met fellow members at their door. There were several instances where the members did not know each other. It became an opportunity for them to connect and possibly encourage regular church attendance and take full advantage of God's means of grace.
There are many people who are feeling lonely and isolated during COVID-19. It was obvious that these people really appreciated the opportunity to talk to somebody, especially those who have health risks and have been forced to stay home.
Participants from Zion told people that they understood why people don't feel safe coming to church right now, therefore they want to bring church to their neighbors. This message instantly resonated with people and gave a reason for a visit at their door.
Takeaways
Wisconsin is a great mission field!
This was Praise and Proclaim's eleventh outreach initiative in Wisconsin. Each time, I have been impressed with the response.
Jesus is right! The harvest is plentiful and the workers are few. Even in small cities with many churches, there are people who are willing to be engaged for the sake of the gospel.
The question to ask people is not "Do you have a church home?" Most people will say that they have some type of affiliation with a church, but rarely attend except for weddings and funerals. Instead, feel confident to engage people and deliver messages of Good News. Let them know they are welcome to learn more about what God has done for them.
Reactions
"Thank you, thank you, thank you for coming to church and teaching Zion Lutheran Church how to bring Church to the people! COVID-19 has so many in our community holed up inside their home and as we found they are lonely, hurting and fearful and they are also silently yearning to hear Jesus loves them and there is a place they can come to hear his encouraging message. Your training taught us the valuable lessons and encouragement of God's Word to be Mighty Warriors for his gospel and you gave us the tools to do just that right here in our community. Your ministry and teachings were also a lot of fun and people of all age groups from teenagers to retirees were able to learn and share God's message together. Your outreach initiatives like grocery outreach and the door-to-door postcard team approach were so simple and yet so effective. I can't wait for our next outreach event just a few months away!"

Nils Johansson, Zion Lutheran Evangelism Committee
If you would like to receive regular words of witnessing encouragement and reports from future outreach initiative, please subscribe to our Praise and Proclaim blog.
Your ministry and teachings were a lot of fun! People of all age groups, from teenagers to retirees, were able to learn and share God's message together.
Praise and Proclaim partners with congregations to help train members and leaders how to comfortably and confidently proclaim the gospel.
Enter your email address below to receive notifications of new posts by email.
Conquer Evangelism Fears, Build Outreach Momentum
Christians who have trained with Praise and Proclaim conquer their fears and apply a simple, memorable method for witnessing to friends, family and their communities. To learn more about how Praise and Proclaim can partner with your gospel ministry, contact us today.