Communicating the Value of Christ
Unless you convince people what a church provides is absolutely special, they will simply choose alternatives that are more widely available.
And the list of alternatives is growing.
It takes effort to ponder spiritual matters. When life gets uncomfortable or complicated our human nature is prone to seek comfort in distractions.
This is causing churches to re-evaluate how to best communicate the value of Christ especially to those who have little interest in church or find it disingenuous.
The Bible implores Christians to be prepared to give reasons for the hope that they have in Christ. It appears that in today's social climate, people need to hear those reasons before they consider going to church.
They want to know:
Why is faith in Christ appealing?
How does a person receive certain hope and true peace?
How could God accept a person like me?
People are interested in these questions, but they don't know who to ask or are afraid to inquire.
A place to start
Jesus was asked, "Teacher, which is the greatest commandment in the Law?" (Mt 22:36)
He said that loving God more than anything else is the greatest. The next greatest command is to "Love your neighbor as yourself." (v. 39)
Overwhelmed with the enormity of reaching the world for Christ, a good place to start is to love our neighbor.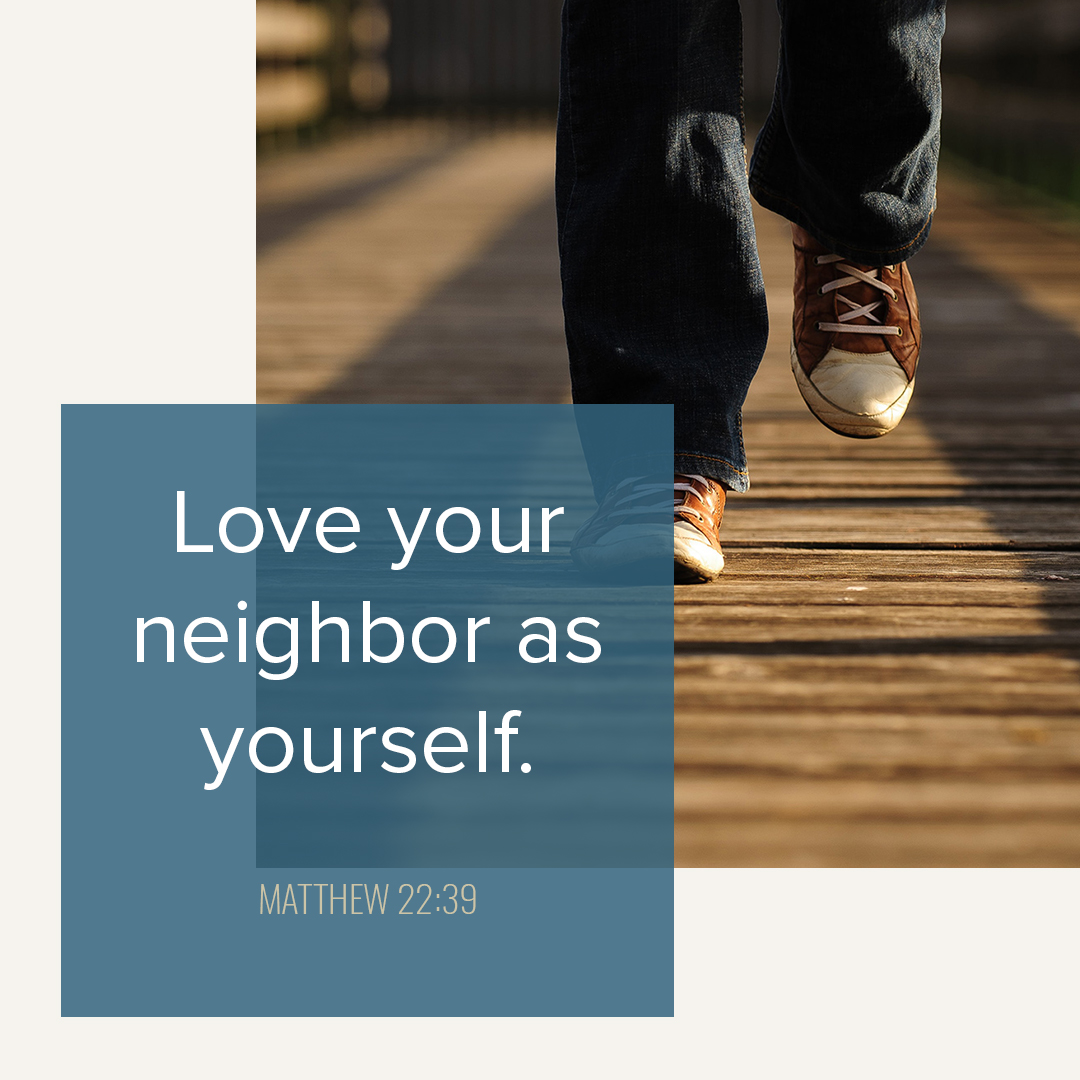 It's a struggle to love our neighbor in today's world. We live in a world of distractions that makes loving ourselves simple and easy. No wonder our neighbors take a back seat in our thoughts and actions. We barely know their names.
The Lord has forgiven me for my selfishness, and he will forgive you, too.
I have had enough with my selfishness, so started to get to know my neighbors by taking regular walks in my neighborhood. I desire to be gospel intentional in my everyday life – for the sake of the gospel.
I try to make it a habit to engage people because my instinct is to keep to myself. I wave and smile and most people wave back. After I have seen them several times on my walks, I will stop and say, "Excuse me. I would appreciate if I could use your name the next time I greet you. Would you mind telling me your name?" It works every time. I tell them that I want to get to know my neighbors better and they completely understand.
A desire to know my neighbors is a first step to exhibit care and concern.
The next time I see them, I can begin to ask questions about their life and listen carefully. By exercising the fruit of patience, openings are created to comfortably communicate the value of Christ.
I prepare myself to communicate hope in difficult times.
True hope brings joy instead of happiness – contentment versus anxiety.
True joy calms my heart amidst the storms of life – because true hope clings to something outside of ourselves.
True peace comes from knowing that I am right with God because of what Christ has already done for all of us.
Despite my failures and all my sins, faith in Christ receives full forgiveness right now and 100% confidence that I will be in heaven.
I am fascinated by the number of people who say they believe in God, but don't feel like they need to associate with a church. Others are friendly and neighborly but have little interest to hear what Christ has done right now.
Either way, an appropriate first response from Christians is to bring the message of the gospel rather than inviting people to church. This is a radical shift and a new paradigm to communicate the value of Christ to the world.
Summary
In communicating the value of Christ to others:
#1 Capture interest by exhibiting that you care.
This may sound amusing, but I'm totally serious. One of the greatest ways to show that you care is to get to know their name. There is power in knowing people's names that I can't explain.
#2 Engage by listening.
Recognize that it's impossible to convert people by trying to convince them that you are right. You will never win a soul by winning an argument. Instead, let go of trying to think of what to say and instead, strive to listen first with a loving heart.
#3 Communicate succinctly from the heart.
People don't want to listen to our long sermons. They are not really interested in hearing twelve Bible verses in a row. They will want to hear your sincere reasons for the hope that you have in Christ that comes from your heart rather than your head.
Are you prepared


to proclaim?
Our FREE Bible Study explores common obstacles and mindset shifts we can make to gain confidence in evangelism.
Enter your email address below to receive notifications of new posts by email.